» Home
» About
» Membership
» Journal
» Sparoza Garden
» Branches
» MGS Forum
» Seed Exchange
» Donations
» MGS Excursions
» Information
» Members' Gardens
» Book Reviews
» News & Views
» Contact
» Search
Bay Area, California
If only trees could talk!Our suburban California garden is dominated by three ancient Valley oaks, Quercus lobata, the largest probably 175 to 200 years old. Did our trees shelter Indians or early settlers to this area? Before the apricot orchards of the early 1900s this land was part of a large Spanish land grant. After winning independence from Spain in 1821, Mexico encouraged the settlement of California by offering land grants to any Catholic native or naturalized citizen of Mexico. This area became part of Rancho San Antonio, then it was broken into apricot orchards and farms, and finally subdivided into small lots in the 1940s.
If only our trees had protested when spray irrigation was installed to water a grass lawn in back and ground cover in front. After we bought the property 21 years ago, we soon learned that summer irrigation can mean death to oaks and of course trenching for irrigation lines cuts into root zones. We turned off the sprayers and let the grass die. Water was still needed for the many young redwood trees, Sequoia sempervirens, which ringed the property. Over the years we have removed many redwoods, keeping some for privacy, and have learned to garden with root-compacted soil and an eye to keeping the root zones of the oaks dry during our lengthy dry season.
A small area bordering the street has sun most of the day so that is where we grow fruit, vegetables and herbs. Orange and mandarin trees, fig, and espaliered apples and pears grow here. In the winter when the overhanging oak is bare, salad greens, broccoli and peas grow in half barrels set on the asphalt driveway.
The front garden is a naturalistic jumble of shade-tolerant low-water plants: Erigeron karvinskianus, Geranium x cantabrigiense, Hydrangea quercifolia, Carpenteria californica and Origanum laevigatum 'Hopley's'. For the partially sunny spots, tough roses like 'Buff Beauty' and Rosa banksiae, eriogonums, salvias, Lavandula x intermedia 'Grosso' and 'Provence', Cistus x obtusifolius, and several euphorbias manage to survive our tough-love formula. The bed is visually tied together by the repeated grass forms of many Stipa arundinacea, Carex buchananii , Nissila 'Ishu', Miscanthus sinensis and the grass-like forms of libertias, Sisyrinchium californicum and S. bellum, and Cordyline.
Growing under the front oak with only winter rain are Ribes sanguineum, Arctostaphylos densiflora 'Howard McMinn', Heuchera maxima and Pacific Coast Iris, Iris douglasiana, both the native form and hybrids, and spring bulbs.
In the back of the house the brick patio and stone paving provide ample space for entertaining. Small areas of Festuca rubra provide lawn-like areas and are green in the winter, fading to tawny gold in the summer. Another small hidden garden has a profusion of plants in pots, mostly succulents, and some large old roses. The brick walls give these areas an old world garden grace.
Although areas directly under the oak trees are not irrigated, we do have a sophisticated irrigation system for the flower beds and under the redwood trees. An irrigation controller (Weather Track) receiving a radio signal uses the evapo-transpiration rate to determine the necessary amount of water to apply. A combination of spray and drip tubing is used and each zone is set according to plant type, soil, slope, sun or shade.
Most of our plants are slow-growing. I do not fertilize perennials or shrubs but rely on compost and mulch. We chip and shred all our garden waste and make compost. The winter drop of oak leaves is so abundant that I willingly trade them with friends for green waste. We have earned a 'Backyard Wildlife Habitat' rating by supplying shelter and water to many species of birds, salamanders and our pests, the squirrels.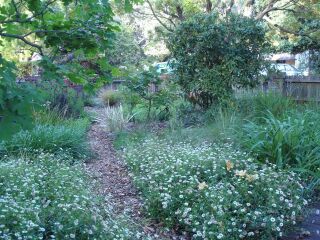 Front garden.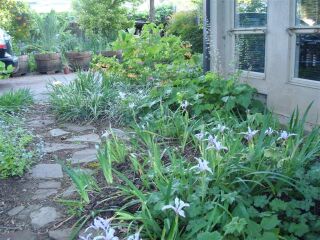 Front path.

The front oak.

Cordeline, verbascum, erigeron.

A quiet corner.

The secret garden.