The South Australian Branch of the MGS
Forthcoming Events
For a list of this Branch's Future Events, as well as reports from more recent Past Events, click here.
Past Events
December 2017
South Australian Branch Christmas Party
The South Australian MGS branch held its annual December Christmas party in the garden of Virginia Sheridan. Unseasonably cool early summer weather made possible our collegial huddling under the magically decorated pergola with glorious views of Adelaide. Each year we hold our Christmas gathering somewhere different and the generosity members extend in opening their homes and gardens makes these gatherings very special.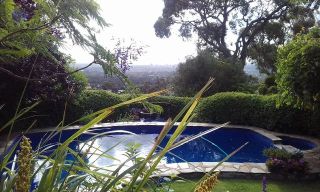 Views of the City from Virginia's back garden
(Photo by Jill Woodlands)
Virginia's garden is no stranger to many of the MGS members, given that it has opened a number of times under the South Australian Open Garden Scheme. It is located in the foothills of Adelaide with spectacular views of the city of Adelaide. It has quite a steep entrance marked by really interesting textural plantings as well as some very unusual twisted topiary conifers.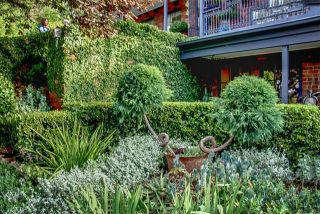 Virginia's front garden
(Photo by Chris Kirby)
And so many cleaver ideas in a compact, yet highly functional back garden. The swimming pool, perennial and rose bank, vegetable garden, tiered shady nooks and beautifully proportioned pergola all envelop this steep site with careful precision. Virginia has designed a marvellous garden with an interesting and creative plant palette - obviously a keen lover of plants.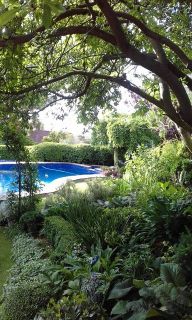 Virginia's back garden
(Photo by Jill Woodlands)
September 2017
Visit to the garden Mandalay
In September, MGS branch members enjoyed a guided visit to this large, diverse 2- garden located in Callington, a town about 50 km from Adelaide in a region known as the Murraylands.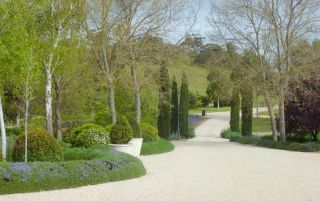 Mandalay front entrance
(Photo by Craig Deane)
The area is characterised by hot, dry summers and mild winters with an annual rainfall of approx. 400 mm. In designing this garden, the owners were inspired by seeing some amazing gardens in Italy which influenced their plantings of olive trees, cypresses, and various hedges of rosemary and lavender. As the garden has continued to expand, toughies from the Mediterranean, South Africa and Australia have been carefully selected because of limited water availability. Given the harsh summers, the careful positioning of shade and water provides a cooling effect even on the hottest summer days.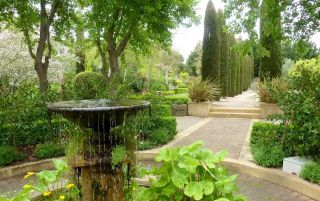 Delightful water feature and cooling vista
(Photo by Craig Deane)

(Photo by Craig Deane)