The Scandinavian Branch of the MGS
The Head of the Scandinavian Branch is Lars Fleng Vestergaard and he works as a city planner in the suburban area of Copenhagen. He has a small garden in the Peloponnese in Greece where he explores Mediterranean gardening.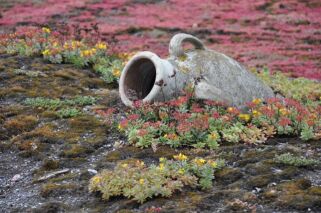 A Mediterranean Style Sedum Roof in Sweden! This photo was taken
by Lars Fleng Vestergaard on the roof of the botanical garden in Malmö.
In Bloom Now
A mediterranean corner in Copenhagen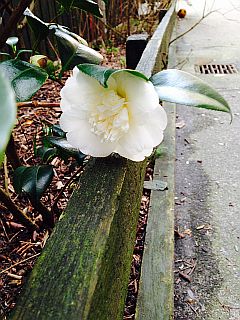 Camellia
What could be more wonderful than lush and large-flowered camellias at the end of the winter? This small camellia bush is more than ten years old and grows in a corner of a Copenhagen yard where the sun never shines. Some camellias may grow several metres tall even as far north as in coastal areas of Norway, and they may reward you with masses of flowers. I guess they would be great in mountainous areas above 1,000 metres in a mediterranean setting where water is easily accessible.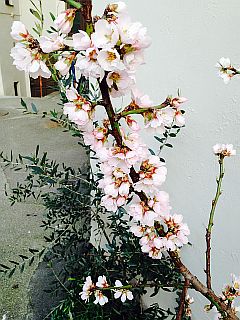 Prunus dulcis (syn. P. amygdalus)
Some hardy almond trees can easily be planted in more northern countries, for instance in protected areas in cities. Do not expect big crops even up against a wall; one grows these trees more for the experience of a Mediterranean spring. This small tree (more than 8 years old) grows in a Copenhagen yard and was in full bloom at the beginning of March. Please notice the small olive tree behind the almond tree. It freezes back from time to time but survives, with new branches every year.
Text and photo by Lars Vestergaard
Past Events
August 2011
Visit to Florentsia and Palmeriet – two part-time nurseries
At last there is a nursery where you can buy plants from skilled people who are knowledgeable and willing to share their experience. The three men – an architect, an educator and a CEO in a communications company – run two open-once-a week-nurseries along with their normal professional jobs. They are all dedicated to growing hardy Mediterranean plants in the Zealand area, but of course also with a dream of the south - so the architect Jens is learning Italian. The two companies also take mail orders on their websites.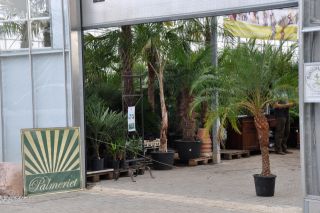 The greenhouse with hardy Mediterranean plants.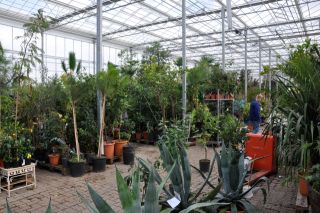 The wider selection of different hardy and almost hardy plants and trees.

A small selection of the many hardy lemons. Martin exchanges hardy citrus
varieties with lemon growers from Northern Germany and Canada.
March 2011
Spring flowers in Copenhagen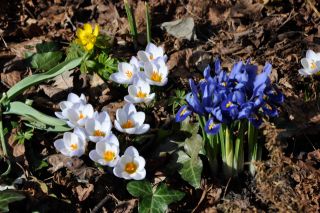 Iris reticulata in good company (On Balders Plads where Lars lives).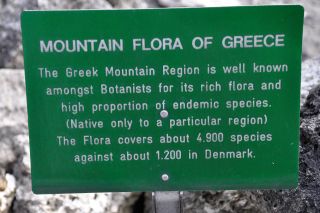 Mountain flora of Greece (Botanical Garden of Copenhagen).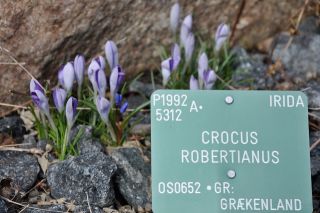 Crocus robertianus (Botanical Garden of Copenhagen).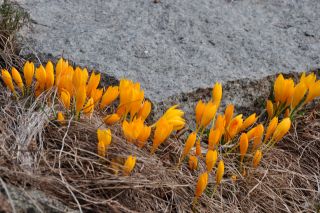 Crocus flavus (Botanical Garden of Copenhagen).

Photos by Lars Fleng Vestergaard.
December 2009
Baldersgården - Pruning session - Twigs for sustainable Christmas presents
Four different plants, (Vitis vinifera, two specimens of Campsis radicans, Viburnum tinus and also a fig tree) were pruned to obtain cuttings during this "hands on" session which took place before the great onslaught of icy winter which fell over Scandinavia. There were hot drinks and light refreshments available for the small group of members of the Scandinavian Branch and their friends who were able to attend.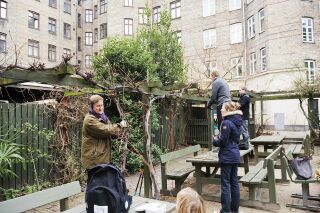 Cutting the vine.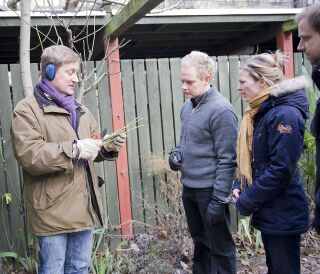 Fig cuttings from Baldersgården
June 2008
Garden visit
Poul-Erik kindly invited us to visit him and his garden in Tisvilde where he has a small collection of mediterranean and quasi-mediterranean plants, cacti and camellias. He offered coffee and tea after the garden walk.
May 2008
Funen
We drove to Asperupgaard which has a great collection of tender trees and shrubs. The owner Bjarne, who runs the 4,000 square metre garden besides his primary occupation as a gallery owner, carries out "experiments" with exotic plants for our latitudes and among these are Magnolia grandiflora and other tender plants.
April 2008
Day of The Forest
This day is celebrated as the day of the forest and we joined the walk in the arboretum of Hørsholm just outside Copenhagen.
March 2008
A visit to the annual camellia show at Aldershvile Planteskole
There was hundreds of species at display and for sale. We met in the nursery at 13.00 and enjoyed the exposition till approx. 13.30 when MGS member Allan Høxbroe and camellia expert Hans Trautner gave a lecture on the growing of camellias. After a second inspirational walk in the nursery Allan Høxbroe kindly invited us to join him on a garden walk in his garden and subsequently he served some home made cakes and a cup of coffee.
Jakob's Vineyard
The Scandinavian branch follows the progress of the "Champagne Field" in the northern part of Zealand with great interest. We arrange an annual visit and hope in the years to come to taste some sparkling wine from Jakob's vineyard. The grape varieties for the sparkling wine are the same as for champagne, one white and two red: Chardonnay, Pinot noir and Pinot meunier.
The high rainfall in 2004 meant that the vines grew well, but all the grapes were cut before they were ripe to ensure good stem growth. In two or three years the plants will be strong enough for the grapes to be left to mature. All the plants grow on their own roots rather than being grafted which is supposed to give a better wine over time.
| | |
| --- | --- |
| An aerial view of the vineyard | The autumn haze over the vineyard |
Fredensborg Castle
The Scandinavian branch visited the Fredensborg Castle to see the new conservatory that has been built for HRH Queen Margrethe II. The conservatory holds among other interesting plants some 250 years old myrtles. These used to be kept in the former conservatory at Rosenborg Castle. The members took great joy in hearing about the restoration process of the baroque garden by the landscape architect Susanne Wagner and about the interior of the conservatory with plants by HRH's chief gardener Jacob Jacobsen.