» Home
» About
» Membership
» Journal
» Sparoza Garden
» Branches
» MGS Forum
» Seed Exchange
» Donations
» MGS Excursions
» Information
» Members' Gardens
» Book Reviews
» News & Views
» Contact
» Search

The Central Spain Branch of the MGS
The Central Spain Branch of the MGS, also known for a time as the Castille Branch, was one of the first branches to be founded by second President Heidi Gildemeister. A number of dedicated Branch Heads served the MGS members of central Spain, bringing them together for visits, talks and other events: Isabel Carvajal was followed by Mercedes (Meye) Maier, Carmen Fraile Martin and latterly Silvia Villegas who previously had spent a year at Sparoza as a Garden Assistant.
Since Silvia's retirement the branch has been inactive, but we hope this will be a temporary situation until a replacement BH can be appointed. Below you will find reports of events offered to members in the past.
Past Events
March 2011 - Real Jardin Botanico, Madrid
The Pleasure Garden. Discovering Paradise

This lecture on The Pleasure Garden has taken us to various parts of the World where landscapes transcend the average and bring us to states of sensual enlightenment. Jeffrey Bale has borrowed elements from gardens all over the World and used them to create decadent yet elegant gardens that bring a connection to nature through relaxation, fragrance, sound, and visual beauty that incorporates elements to alter consciousness. He has presented photos from gardens he visited this winter in Andalusia and Morocco, as well as other parts of the World, and his own work that exemplify the idea of creating true paradise. Along with the images he has given a unique perspective as to why he thinks these ideas change the way we feel. He hopes we will join him on this adventure.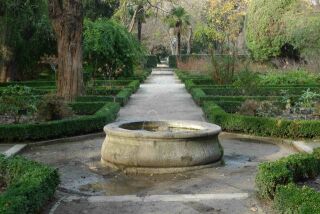 Jeffrey Bale is a garden designer from the United States, living in the city of Portland, Oregon on the west coast, north of California. He graduated with a degree in Landscape Architecture from the University of Oregon in 1981. After working in an office for 20 minutes, he ran out the door and later started his own garden design and build business. It took many years to grow in to what is now an artistic approach to building gardens that are a manifestation of paradise. For the last 28 years Jeffrey has been traveling for 3 to 5 months during the winter in Asia, South America, Europe, and this winter in Morocco and Spain. 24 years ago he visited Andalusia and saw for the first time pebble mosaics. On returning home, he developed a technique for building pebble mosaics in mortar and has become known for this art form, creating designs inspired by carpets, paintings, mythology, cosmic symbols, Arabic patterns, plants and animals. Every garden tells stories that transport people into a more beautiful world. A garden can be a taste of heavenly bliss.
June 2009
Visiting two gardens at Guadalajara

We met at Piedras Menaras, Guadalajara, at the house of Maria, Marquise de La G., in order to visit her garden and that of her sister Beatriz, as well as to admire the restoration work carried out in the Marquise de C.'s garden by Rob Snook (a horticulturalist at Kew Gardens). Maria thinks highly of the MGS and many of us will remember having visited her San Bernardo garden at Cordoba during the AGM held in Carmona. Ever hospitable, as the daylight faded she invited us to partake of a glass of well-chilled sangria under the great oak tree. These two beautiful gardens both have a lot of shade, for the heat here is intense in spring as well as in summer; the winters, by contrast, are extremely cold. They have been created in the midst of a fine dehesa – in other words in an area of outstanding agricultural land. The photos show us various corners of these gardens and allow us to understand Rob's explanations of his work. As well as MGS members, I also invited the Assistant Director of the Botanic Garden of Alcala de Henares, Inmaculada Porras, who gardens in Guadalajara and possesses a fine collection of roses, and Silvia Villegas, of the Madrid Botanic Garden, a former assistant of Sally Razelou at Sparoza, whom we see in one of the photos chatting to Maria La G.

Everyone had a wonderful time and we agreed to meet again in the autumn.
Meye Maier.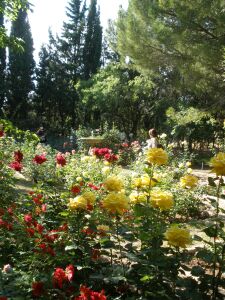 The rose garden.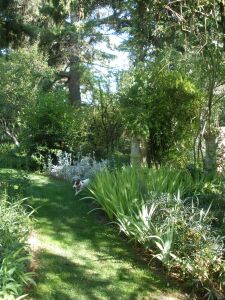 Otto between the irises.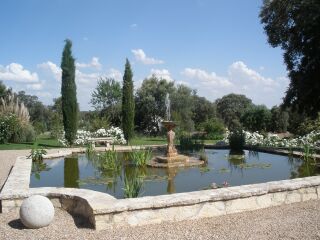 A new pond.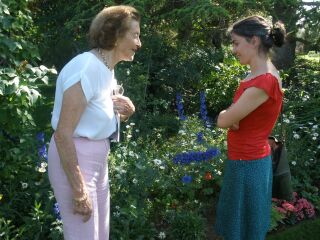 Maria and Silvia chatting.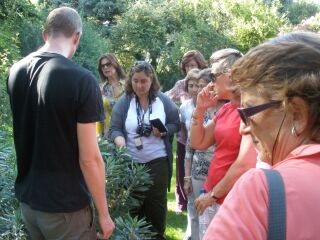 Rob explains the restoration work.
Botanic Painting in Cordoba and Madrid

Since I have a passion for botanic painting and since some other MGS members in Madrid also practise this art, we decided to try to persuade Béatrice Saalburg to come to Spain to give us some lessons. In Spain the discipline of botanic art is little known, in spite of the fact that there are some highly committed botanic painters. It was in Béatrice Saalburg's studio, in the Perche region of France, that I was first initiated into the pleasures of an apprenticeship to this art.

Thus, "in the season when the orange and lemon trees flower" – in early April 2008 – I found a large studio in a simple inn in Cordoba, at the foot of a mountain and below the wonderful garden of Medina Azahara, run by Pilar del Pino who is herself a painter. During our five-day stay we spent hours painting and wandering through the town to visit patios and gardens, trying to understand what an Andalusian garden is. The group was Franco-Spanish, including both French participants and friends of the branch of the MGS based in Madrid who are interested in the subject. Viola did some fine work during these days of inspiration and learning.

In November 2008 our lessons were held in the Botanic Garden of Madrid. Some of those participating came from France and Germany (for example Signe Groos); there were also members of the MGS from Madrid and students from the Batres School of Landscape Design in Madrid. The subject that we worked on was Arbutus unedo.
Here is some of the best work, with a touch of ambience and of the genius loci...
Meye Maier.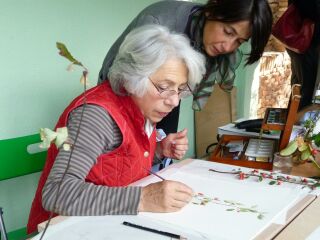 Beatrice Saalburg, our teacher.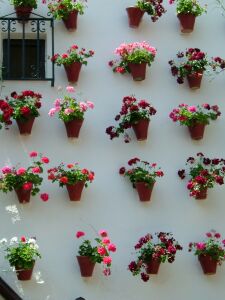 Patios in April.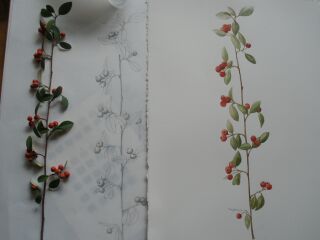 Three Phases.

The strawberry tree.
---
Former Branch Head Silvia Villegas writes: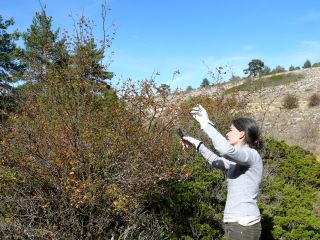 "I was born in El Ejido, Almería (Spain) in a local farming family so I grew up growing peppers, tomatoes, aubergines and other vegetables in a greenhouse. Probably this is why I have a passion for watching plants grow.

I went to Granada University where I took a degree in Plant Biology specialising in botany. After finishing I moved to Edinburgh (UK) where I discovered the amazing world of gardening. I spent a year at the Royal Botanic Garden of Edinburgh, studying Horticulture.

Subsequently I was lucky enough to spend nine months at Sparoza under the supervision of Mrs. Sally Razelou, who opened my eyes to the world of mediterranean gardening. I feel very fortunate to have met Sally, a person for whom I have great admiration.

After my time at Sparoza I went back to the UK and worked in the garden of the John Ruskin Museum in the Lake District. Later I gained a place to take the Kew Diploma in Horticulture at the Royal Botanic Gardens Kew, where I spent three years studying and working.

Since 2007 I have been at the Royal Botanic Garden, CSIC, in Madrid, Spain. I manage, together with five gardeners, part of the Living Collection, the nursery, the Vine Collection and wild-collected plants. I am very interested in growing plants from the Mediterranaean region, especially bulbs. I am fascinated by the horticultural potential of the plants of the Iberian peninsula, which are more or less unknown to most people."