The Provence, France Branch of the MGS
Past Events
June 2012
Garden visits - Grasse
We visited the garden of La Jasminade, Bar sur Loup, followed by lunch at an auberge in Bar sur Loup on 19 June. The afternoon was spent at Domaine Saint Jacques du Couloubrier near Grasse.
June 2012
Garden visits and talk on Designing with Nature
We had coffee and brownies on 6 June at the Château de Beauregard, Mons, and an introduction to the unique, more than 400-year-old topiary garden at the Château. After a picnic lunch at the new garden of Jenny and George McNaught near Fayence/Mons, Jenny gave a talk about her approach to designing their garden entitled 'Designing with Nature'.
May 2012
Domaine de Gavaisson, Lorgues
There was a visit on 24 May to the historic wine-making Domaine de Gavaisson, followed by a 'bring to share' lunch in the lovely new gardens of Nicola d'Annunzio and Alan and Gill Robinson in Lorgues.
May 2012
Visit to Château Vignal
On 9 May we visited the lovely Château Vignal owned by Pierre and Henriette Chiesa-Gautier near Contes behind Nice.
May 2012
Wild flower walk in Sillans La Cascade and Moustier
On 3 May we enjoyed a wild flower walk with pépiniériste Benoît Beauvallet (of l'Armalette plant nursery at Sillans-la-Cascade) above Moustier Sainte-Marie, Verdun Gorge.
April 2012
Visit to the town's gardens in Hyères
With the help of the Mayor of Hyères, we had a conducted tour in the morning of 20 April of the classic and historical garden of Castel Sainte-Claire, which was created by Edith Wharton. After lunch, we were welcomed to Hyères' glasshouses, where they grow the plants for the town's parks and gardens, and we learned about their approach to waterwise gardening.
October 2011
A Visit to Château Beaulieu and the Bibémus quarries near Aix-en-Provence

On Thursday 6 October 2011 the Provence branch of the MGS joined forces with the Languedoc branch to visit the Château de Beaulieu near Rognes. This privately owned wine domaine of 300 hectares, of which 140 are planted as with vines, has been undergoing major refurbishment of both house and garden. The estate, which is situated on an extinct volcano, has gardens which were originally laid out in the 18th century. Many changes have been made over the years, but during the last five, Atelier Alep, under the guidance of Philippe Deliau, has restored the area closest to the house into classic simple garden rooms and created new axes which give long sweeping views from the house.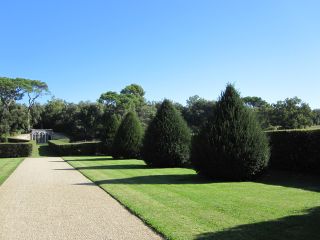 Axis looking south towards the Orangerie.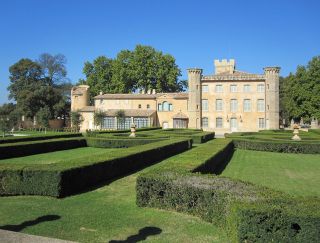 On the west side of the house is an 18-century geometric labyrinth in box.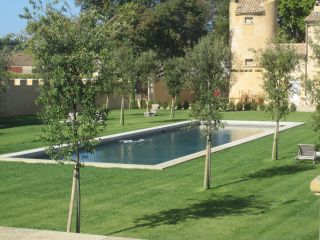 And beside it a magnificent newly-constructed basin-type swimming pool.
Philippe likes to use endemic plants in an ornamental way, for example, he has created a long, mixed hedge using green and white oaks, Viburnum tinus, Pistacia lentiscus and Buxus sempervirens.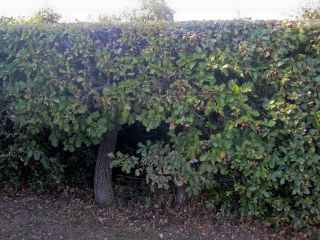 Mixed hedge.
Rebecca Engels had very generously offered her lovely garden above Aix-en-Provence for us to enjoy our shared lunch. This was followed by a visit to the tranquil and brooding Bibémus quarries, last worked in the 18th century.
It was here that Paul Cézanne painted 14 masterpieces using the oddly sculpted rocks, the amber sandstone, green pines and Provençal blue sky as his inspiration.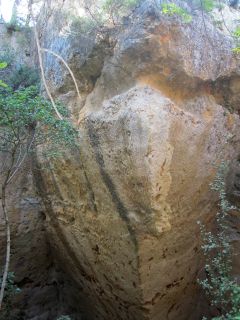 The quarries have been sympathetically landscaped by Philippe Deliau. He has created a circuit with paths, wooden walkways and platforms in order for visitors to be able to compare the landscape with reproductions of the paintings created there by Cézanne. Intervention has been minimal, allowing trees and shrubs to spring up at many levels and preserving the peaceful atmosphere of the site.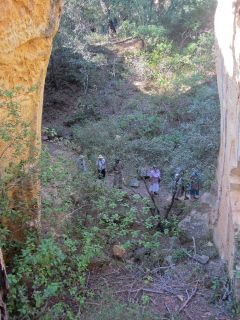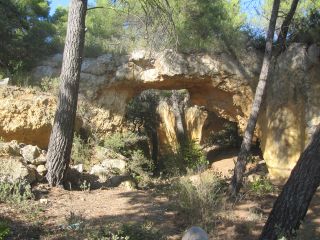 Text by Nicola D'Annunzio
Photographs by Nicola D'Annunzio and Christine Savage
June 2011
Garden visit
Landscape architect and MGS member James Basson led us to see three very contrasting gardens near Villefranche which he designed. The first, a very new garden, involved the planting of some 4500 plants of 400 varieties which will form a dry garden around the award-winning, beautiful pool, also designed by James. Already it is looking super: an encouraging stimulus to those of us who try to garden without water. The second was a well-watered, established garden featuring lovely rows of agapanthus and some rather unhappy-looking oak-leaved hydrangeas. The last, where we picnicked, surrounded a beautiful old farmhouse in a valley below Peille. It was full of graceful grasses, alliums, tall verbena and yellow verbascum plus the occasional sunflower. James introduced us to a non-electric way of fencing out wild boar, advised the use of Rosa sempervirens to keep out burglars and showed us the magnificent Charles Rennie Mackintosh-inspired gates which he had commissioned for the property.
Visit to Villa Fort France, near Grasse
Another of the famous gardens in the Var, that of Villa Fort France near Grasse, was visited in June 3. The original owners, Lady Winnifred Fortescue and her husband Sir John, an archivist and military historian, bought it in 1935. Lady Fortescue wrote a best-selling account of her struggles to create her home there entitled Perfume from Provence which was illustrated by A.A. Milne. She followed this success with two further books written when she moved to Opio: Sunset House and Trampled Lilies (which recounts her time during the war years). The rose garden she created was expanded to form the current garden by Jeanne Gruniaux who continued to advise the present owners Pierre and Valérie de Courcels until her death. The de Courcels have added their own deft and artistic touches to create a lovely garden full of colour, much of which comes from a superb use of annuals (poppies, larkspur, love-in-the-mist and aquilegia plus a sweet pea hedge).
May 2011
Wild flower walk
This was the day for something different – a wild flower walk in the back country above Vence led by MGS member Kari Wang who is an alpine flower expert. It was her skill and knowledge which found and identified the plants as she led us up to a spectacular view at 1200 metres and back through fields of magnificent Paeonia officinalis.
Visit to La Casella in Opio
La Casella is an exquisite, elegant garden created by Tom Parr and his partner Claus Scheinert. The beautiful day allowed us to appreciate their lovely use of Ceanothus, Solanum and a standard Wisteria set against a carefully crafted green background. Tom Parr, who was in the garden during our visit, sadly died recently after a long and difficult illness. After the visit to La Casella, Maggie Lockett kindly hosted our picnic in her garden and olive domaine.
April 2011
Two gardens near Hyeres
Nurseryman and MGS member Jean-Marie Rey led the visits to two of his favourite gardens near his house in La Londe les Maures. The first was to a delightful small private garden close to the sea and set above the surrounding domaine. This gem of a garden complemented the unusual house which was built of corbelled dry stone and old timbers. After Jean-Marie had very generously given us an excellent lunch in his garden (again...), we were led to the far side of Hyères by Renaud Lugagne who owns Le Plantier de Costebelle estate. Visited by Queen Victoria in 1892, the estate boasts superb specimens of rare trees and palms and one very old tortoise who probably met the queen...
Clos de Peyronnet in Menton
The owner of the Clos du Peyronnet, MGS member William Waterfield, showed us around the garden started in 1915 by his grandfather. It has many unusual plants, some beautifully juxtaposed, a grotto and a stairway of successive pools which draw the eye through the garden to the sea. William's enthusiasm and knowledge of his plants and bulbs enhanced our visit, which culminated in a relaxing picnic in the justly famous garden.
March 2011
Le Moulin de la Mourachonne, Mouans Sartoux
Thanks to introductions from Joanna Millar and Ilse Hoger, we visited this garden owned by James and Irma Buchanan-Jardine. This lovely water-filled garden was created around an old mill restored in 1936. The garden straddles both sides of the Mourachonne river with acid red soil on one side and limestone on the south side. Its famed magnolias were in glorious flower and the weather, which had threatened storms, behaved itself - enabling us to picnic in the very English surroundings and imbibe the good wine generously provided by James and Irma.
Visit to Ets. Kuentz in Fréjus
Founded in the 1890s, this is the oldest specialist cactus grower in France. Third generation owner Henri Kuentz gave us a tour, told us how he propagates cacti and how to care for them (most need water in the summer to grow well!). He sells a wide choice of cacti for different locations, including some that are frost-hardy to minus 12 degrees, so we all went home clutching (carefully) little pots.
Visit to the Horticultural School in Antibes
The year 2011 started for us with the next generation of gardeners and a visit to the Horticultural School in Antibes, founded in 1890. After a tour of the school and its extensive grounds, the older pupils introduced us to their special projects including a roof garden. Lunch at a local restaurant was followed by a visit to Pépinières de la Foux which specialises in Mediterranean plants and a talk by nursery owner Carole Bonaut.
June 2009
Wednesday 3rd June found us at Hameau L'Autourière, La Garde Freinet – Philippa Woodall's garden. Philippa told us that L'Autourière is an ancient hameau and was a falconry ('autour' means goshawk), then a silk farm growing fruit and vines. Nestled in a valley in the curve of a cooling stream, it has rare deep fertile soil and a permanent and plentiful water source from the stream, thus permitting us to feast our eyes on a spread of green lawn and lush meadow. The garden takes its charm from the setting. The old stones of the Hameau buildings enclose between them two shaded and Trachelospermum–perfumed courtyards in which we ate a delicious lunch of seared tuna. We then roamed the gardens, admiring Philippa's potager, her Zimbabwean sculptures and the magnificent creamy-white flowers of the Magnolia grandiflora.

We moved on to Susanna Linhart's garden for dessert (or should I say desserts…). Surrounded by chestnut forests, wild flowers including helleborine orchids growing profusely, and beautiful views towards Mont Sainte-Victoire, we were enchanted by both the location and Susanna's paintings and collages.

On Tuesday 16th June we visited the Mas des Mauriers, Michelle and Guy Beddington's garden which is situated at one end of the interlocking group of valleys dominated by the village of Bargemon. The welcoming stone house was originally created from a barn and various outhouses by the previous owners but was enlarged and enhanced by Guy and Michelle. They have added a beautiful pool of dark green stone and planted the courtyard garden around it. Outside this partly enclosed space, Guy and Michelle are gradually clearing the undergrowth of an overgrown olive grove to create an open-air gallery for a number of intriguing installations by the Surinamese artist Marcel Pinas and beautiful, very large glazed pots by the German artist Peter Thumm.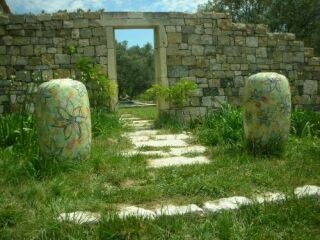 Peter Thumm's pots at Michelle and Guy Beddington's
Following another wonderful lunch provided by Michelle and Guy, some had the energy to visit Guy Beddington's Fine Art gallery which is in a lovely old house situated on the ramparts of the mediaeval village of Bargemon. The gallery has beautiful views towards the village of Clavier, over the olive groves belonging to Bargemon's Château and the green hilly country beyond.

Later in the still very hot afternoon, we convened at La Campagne Sainte Marie, the garden of Nicole Rengade in Tourettes near Fayence. The 5000-square metre garden which the Rengades acquired in 1995 surrounds a 200-year-old farmhouse whose façade is covered by vines and wisteria. Nicole has single-handedly created a wonderful garden. Decorating it with spare roof tiles inscribed with poems, she uses old casseroles as pots for geraniums and sedums. This very individual garden has a stream leading to an old lavoir, 800 varieties of plants and three Provençal donkeys. There's also a good nursery attached to the domaine run by her son-in-law. After we had wandered round the garden, Nicole generously treated us to some cold drinks including delicious home-made orange or lemon wine which revived us enough to drive home.
Carol Connolly & June Grindley
May 2009
On May 4th we visited Denis Weis' "Chemin de Ronde" garden in Figanière. Denis'' garden, named after a tour of the ramparts, was designed, as the name suggests, to lead one round the garden and to confuse one about its size – which it did, being crammed with a multitude of lovely and unusual plants. The visitor is greeted at the front gate by a Vitex agnus-castus (unfortunately too early for its lovely blue flowers) and then welcomed into the garden by perfumed roses (Rosa 'Papa Delbard', R. 'Jacques Cartier', R. 'Celestial' and R. canina). Entering the shady side of the house, where ferns flourished with shrubs, roses and trees including a white Cercis (from Pierre Cuche) overhanging the path, we were led through to a small lawn with Hebe and Pittosporum and hence to a Japanese area with bonsais. From here a bamboo tunnel led to a pond and thence to the potager and fruit garden back at the front of the house.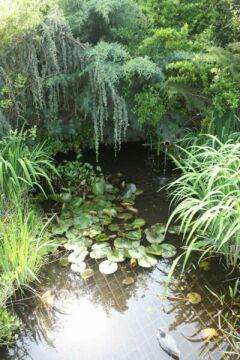 Denis Weis's garden pond
Mercifully the rain held off until after lunch and a plant exchange at Carol Connolly's garden in Bargemon but it scuppered the planned post-prandial visit to June Grindley's garden.

On May 7th the sun finally shone for the visit to Joanna Millar's splendid garden in Tourrettes-sur-Loup, where a superb lunch was followed by an excellent, informative talk on Roses and Clematis given by Yve Dyson. In Joanna's garden one's eye was constantly caught by something magnificent: from the bright yellow 'Zantha' iris to the deep blue 'Jane Phillips'; from the Rosa mutabilis to the R. banksiae x gigantea climbing the pine beside the swimming pool; from the stunning huge deep blue Ceanothus to the quiet beauty of a little corner by the gate where a golden-leaved Philadelphus perfumed the air above a blue iris and a delicate white Tulbaghia in its pot.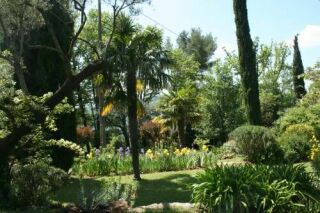 In Joanna Miller's garden
Yve Dyson, speaking from her experience as a rose grower near Menton, gave us many helpful hints which will stop us struggling to try to grow clematis and roses unsuitable for the Riveria and will help us nurture and care for those that, like us, love the climate in Provence.

May 9th saw us in the south-east corner of the Var with a fascinating lesson in olive grafting from Fritz and Annette Hahn and a tour of their olive grove with its wide variety of olives and their many fruit trees in Ollioules.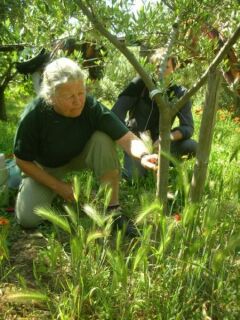 Annette Hahn demonstrates olive grafting
Next, invited by their neighbours Philippe and Michelle Chrétien to see their garden and have a pre-lunch drink, we were delighted to see this beautifully designed, intensely planted space. A profusely flowering Rosa filipes 'Kiftsgate' had welcomed us, grown unusually along the fence to the front gate. We then moved through a shady arbour, where the dark foliage was relieved by a flash of white from a variegated Pittosporum, to a lovely pond, followed by an immaculate potager and thence through to a shaded terrace loaded with drinks and nibbles.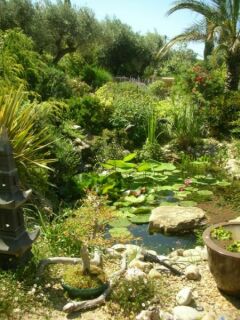 Philippe and Michelle Chrétien's garden
Returning to the Hahns' olive grove and fruit orchard, we ate our picnics and indulged in the delicious quiches, tarts and clatoufi cooked by the Hahns. Completely sated, we moved in the afternoon to the Domaine d'Orvès, Françoise Darlington's beautifully mature garden. Surrounding a 16th-century bastide house, the garden has a stately air. From the entrance gate, emphasised by areas covered by Ceratostigma bisected diagonally by two small long waters, we took a path edged by irises and overhung by arches formed from fig trees which led up to a shaded terrace with more formal ponds edging it. Behind the house, the garden with lovely white Romneya, growing taller than I have seen in the UK, leads to an old chapel and a wooded area with many unusual plants and shrubs.
Carol Connolly & June Grindley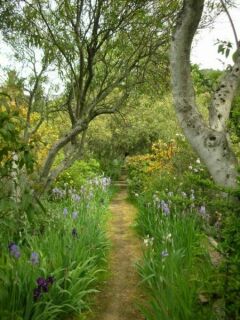 Francoise Darlington's Domaine d'Orvès
Spring 2009
Journées des Plantes at Sophia Antipolis
The Provence Branch of the MGS started the year with an informal visit to the Journées des Plantes at Sophia Antipolis, although only a few braved the incessant rain to be tempted by the excellent quality and variety of plants for sale. The rain continued all day, impeding the planned afternoon visit to Vivienne and Martin Stead's garden. The few hardy souls who braved the weather were treated to the Steads' warm hospitality and enjoyed tea and biscuits and garden chat instead.
Rain continued to dog our plans and we had to postpone the next planned visit to Joann Millar's garden.
Carol Connolly & June Grindley