The UK Branch of the MGS
The UK Branch of the MGS was among the first branches to be founded by second President Heidi Gildemeister. A number of dedicated Branch Heads served the MGS members living in the UK, bringing them together for visits, talks and other events: Freda Cox, well-known as one of the illustrators of the The Mediterranean Garden, was followed by Michael Micheli and Heather Martin.
Past Events
June 2014
Branch Annual Meeting and garden tours
We visited many private gardens, two nurseries and had evening talks by specialists on peonies and lavenders during the third very successful branch meeting in Lincolnshire, arranged by Sue Bennison. Our hotel was right opposite beautiful Lincoln Cathedral.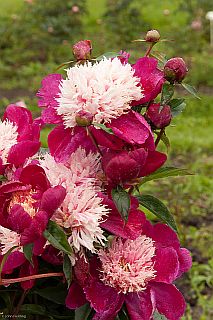 Paeonia 'White Cap' at Bennison Peonies nursery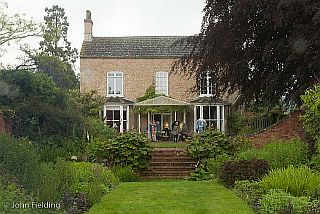 Hall Farm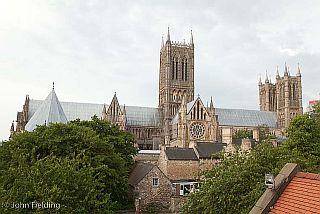 The cathedral from our hotel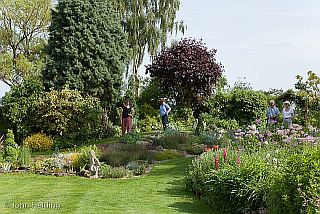 Rock garden at Overbeck
April 2014
Wild flowers in Crete
John Fielding, co-author of Flowers of Crete, accompanied our week-long visit to see wild flowers in early April. The conditions were perfect. We saw endemic tulips and much else.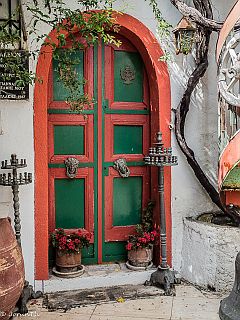 A quaint, but interesting private collector's museum in Asomatos

Paeonia clusii near Alones, north of Plakias

Deep pink Anemone coronaria with
pale lilac-purple Tulipa saxatilis
Photos by Jorun Tharaldsen
June 2013
Branch Annual Meeting & Garden Visits
The 2013 Branch Meeting was based In Tenterden Kent, with visits to gardens in the Kent and
East Sussex area.
The gardens visited were Pashley Manor, Ticehurst and Great Dixter, Northiam, both in East Sussex, and in Kent Roger's Rough, Kilndown and Heronden, Tenterden.
The garden design prize was awarded to Amy Roberts during the event and, at the meeting, members voted to make a donation of €100 to Sparoza.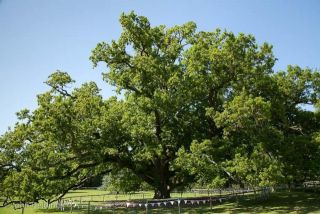 Pashley Manor, ancient oak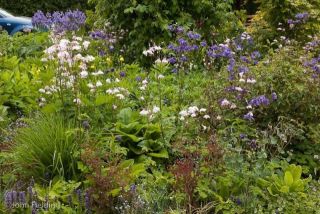 Roger's Rough - aquilegias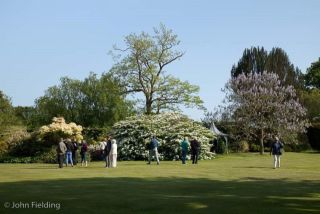 Heronden – fine examples of Paulownia and Cornus
All photographs by John Fielding
May 2013
UK Branch Tour of Languedoc
Our group of 27 gathered on a warm afternoon in the Jardin des Plantes in Montpellier and was welcomed by MGS President Jean Vaché and Professor Daniel Jarry, Curator of the garden. This is one of the oldest botanical gardens in Europe; like others of the time, its main purpose was to grow medicinal plants. Pierre Magnol (1638-1715), after whom the genus Magnolia was named, was Director of the garden and he devised the first 'natural system' of plant classification. One week after this first meeting we said our farewells over lunch at the home of MGS Seed Coordinator Chantal Guiraud. In between, we visited so many gardens and enjoyed such rich experiences that a diary would be too long; instead this note aims to distil some of the memories and impressions.

MGS President Jean Vaché and Curator Professor Daniel Jarry welcome the group to the Jardin des Plantes in Montpellier and explain its history, before our tour began
Base camp for our excursions was the small town of Pézenas, known for its historic quarter of narrow streets lined with tall stone buildings and fine façades. These reflect a grander past when the town was the seat of the Languedoc parliament and governor. It reached a cultural zenith in the late 17th century, when many artistic figures came to the town, notably Molière, whose memory is still an important touristic asset. Our hotel carried his name, and proved to be a uniquely atmospheric establishment full of theatrical memorabilia.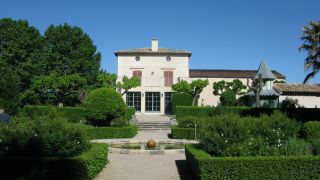 A formal area in the Jardin de la Dourbie, designed by the famous French landscape architect
Dominique Lafourcade. The dwarf hedge is not box, as one might expect, but Viburnum tinus.
Our daily excursions and visits provided a vivid understanding of the garrigue, the rocky limestone terrain and low scrub that forms a backdrop to the entire area. Many of the gardens were carved out of this landscape, in some cases by the owners' hands, and they merge easily back into it at the edges. The defining vegetation is evergreen oak and box, while more open patches and roadsides are covered at this time with valerian and two cistus species: Cistus albidus (pink), and the aptly named C. monspeliensis (white); these have to be the floral emblems of our tour. This genus also figured prominently in the garden visits, most notably at the nursery of Olivier Filippi, where 100 or so species and hybrids can be found. We enjoyed his commanding explanations of lawn alternatives for dry places and his extensive demonstration garden running down to the Bassin de Thau lagoon, where oyster beds stretch far out from the shore.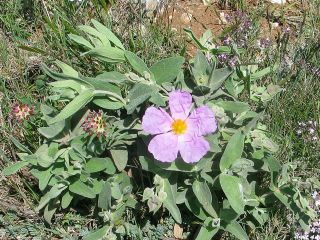 Cistus albidus was flowering everywhere in the roadside vegetation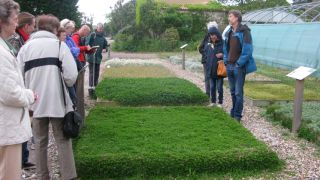 Olivier Filippi explains his experiments on 'lawn alternatives' (or walkable groundcover) for dry places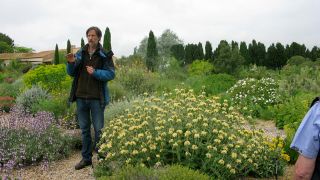 In the large demonstration garden of Olivier Filippi's nursery, surrounded by
Phlomis, Cistus and Salvia, which were all seen in great variety during our visits
One of our days linked the native and cultivated flora, with a wild flower walk in the morning followed by a nursery visit in the afternoon, both in the care of Gill Pound. On a ridge behind Cesseras we were reminded of the variability of form and colour in natural plant populations, notably in the abundant wild thyme. On the same walk we found several species of orchid, including a fine 'grove' of Orchis laxiflora, an unexpected fritillary (probably Fritillaria messanensis) and a small Amelanchier ovalis in full flower.

Coronilla glauca seen here in its natural habitat during our wild-flower walk
with Gill Pound. We also saw it in several of the gardens visited where it s
eemed to flower rather less profusely; perhaps it enjoys the hard life!

Irises also spanned the wild and the cultivated arenas. On the hills, the very dwarf Iris lutescens was already bearing its chunky fruits, while in many gardens we were so seduced by the magnificent I.x germanica that we requested a bonus visit to a nursery that lists over 400 varieties. At Roquebrun, there was a field of this plant being grown for the extraction of an essential oil destined for the luxury perfume trade, c/o the Jardin Méditerranéen de Roquebrun. The garden itself occupies a steep south-facing slope and enjoys a particularly mild climate, despite being 20 miles inland.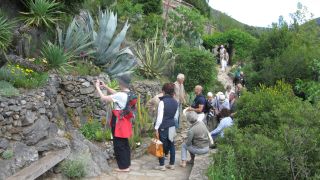 On the lowest terrace of the Jardin Méditerranéen at Roquebrun. The garden
has been developed over the past 25 years on a steep south-facing hillside and
enjoys a warm microclimate that enables a wide range of cacti and succulents to be grown.
Keeping in mind the core values of our society, the subject of irrigation was raised in many discussions. Clearly, some gardens, or parts of them, are watered to increase the range of plants that can be grown, and particularly to extend the flowering season around the house. On the other hand, for a truly dry garden, the value of a single 12-litre watering at planting was noted, in order to encourage the deep rooting habit of these plants in their natural habitat; likewise the advantages of a poor open soil rather than any luxury compost that might encourage root laziness. Those who alternate between UK and Mediterranean residences have a special interest in following the true 'waterwise' path, because their gardens must survive long periods of absence (or neglect), but still look presentable when the owners return.
We were reminded that drought is not the only challenge to gardeners in Languedoc; the summer is particularly hot, while winters can bring sustained spells below freezing, some still engraved on the memories of our hosts. There is also the wind, not the famous Mistral here, but the Tramontane, a cool wind blowing strongly from the north-west, which we experienced in the first days of our tour.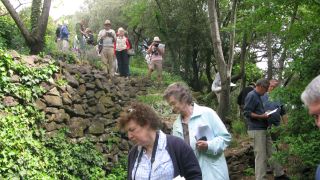 Our group is seen here exploring the garden of Andrew and Margaret Polmear
at Le Mas Bousquet. They have reclaimed and restored the old terraces which
were once used by smallholders on the side of a valley that is sheltered from the
Tramontane wind. This now provides an excellent environment for growing a
wide range of plants.
These directional effects emphasise the importance of microclimates in the garden, especially when making patios and terraces. A small change in altitude or aspect can have a profound effect for both plants and people. In past times, when the land was cultivated more intensively, some steeper hillsides were properly terraced in two-metre steps, and this no doubt contributed to the conservation of both soil and water.

In the Jardin des Rossignols developed as a rural refuge by Catriona McLean
in an open field site. These established trees have been treated with chaux,
a protective limewash which also provides an 'architectural' focus in the garden.
They are surrounded by concentric rings of tulips, iris and lavender to provide
colour at different times.
There was little sign of arable agriculture anywhere in our travels; the only significant cultivated crop is the grape, which is grown everywhere, always as low pruned stumps, and now mostly at a precise spacing for mechanical cultivation and harvest. Small plantations of mature olive trees remain, but there are no new plantings, so this is hardly a commercial crop. This spring had been unusually cool and wet, so the landscape was still entirely green, and the vines were still in early growth. Despite the excellent cheeses on offer at our meals, I did not see a single cow, sheep or goat on the entire trip.
Wine is the main product of the region, and it was the focus of our visits to two fine châteaux near Montpellier on the penultimate day. Besides touring their historic gardens, we were guided in tastings by the owners and by Rosemary George, a Master of Wine and acclaimed writer on this subject. Meals taken at some outstanding local restaurants gave an opportunity to exchange stories and to meet some local members who made the effort to join us. On other days we were hosted for lunch at members' houses, where the excellent hospitality and explanations about the properties provided a very personal note, besides some warm reunions from previous MGS events.

Wine tasting with Rosemary George in the cellar at Château de L'Engarran near Laverune
Finally, we must mention the faultless organisation of this trip by our Branch Head, Heather Martin; there was not a single mishap from start to finish. We all took away a large bagful of memories and, for some, a bagful of plants as well.
Text and photos by Michael Turner
August 2012
Gardens near Bristol

On Monday 6 and Tuesday 7 August we visited Lady Farm near Chelwood in Somerset, and those who arrived in time, also went to Anthony Lyman Dixon's Arne Herbs nursery.

Lady Farm
The next day we had a fascinating talk from Derry Watkins of Special Plants nursery in Wiltshire and a tour of her garden which is packed with... special plants!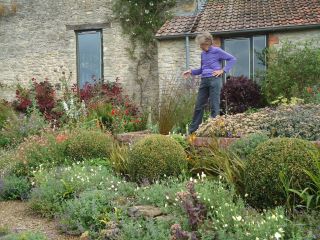 Derry Watkins in her private garden
After lunch at Derry's, we continued to Abbey House Gardens in Malmesbury and on to Highgrove which the branch has visited before but where none of the members on this visit had been before.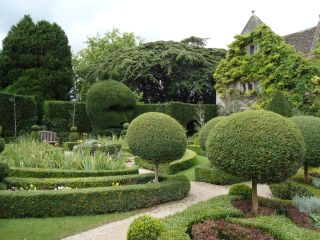 Abbey House, Malmesbury
July 2012
UK Branch Inaugural Annual Meeting and Garden Visits
Those members attending travelled to Hampshire, staying in a hotel near Sutton Scotney. On the day of our arrival we visited:
Spring Pond Garden, Laverstoke, owned by Carolyn and Julian Sheffield.
A delightful garden created by its owners, particularly memorable for the courtyard within the flint walls of the house which were covered by roses and clematis – we were told by Mrs Sheffield that she uses pig wire fixed to the walls to provide support for these climbers.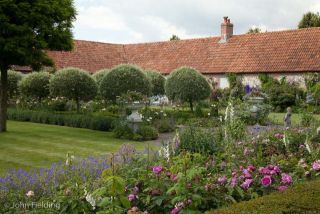 Spring Pond Garden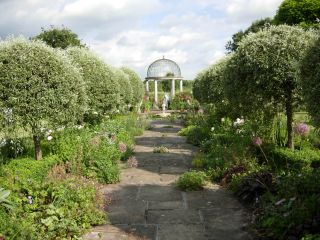 Spring Pond Garden
The following day in the morning we visited Bramdean House, Alresford. Victoria Wakefield, whose family has owned it since 1944, is the custodian and gardener today. Here is a traditional English garden of over 5 acres: a double herbaceous border planted with over 100 species, a walled kitchen garden, greenhouses, billowing yew hedges and many fine examples of trees, e.g. Ginkgo biloba, Liriodendron tulipifera, Davidia involucrata.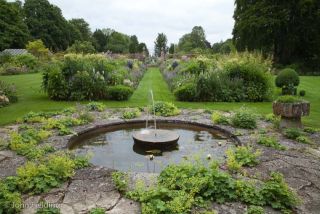 Bramdean House, herbaceous border (view from the house)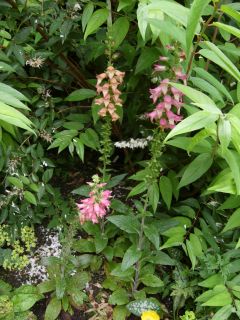 Digitalis 'Illumination Pink', a new hybrid with parentage
from Isoplexis (Canary Island foxglove), semi-evergreen and hardy
The rest of the day was spent at Bere Mill, Whitchurch, the home of Rupert and Elizabeth Nabarro.
The River Test runs through the grounds, and the Nabarros have created a garden in the adjoining water meadows; there are small streams crossed by bridges, a lake, double perennial flower beds, a bog garden, trees – including an avenue of swamp cypresses - shrubs, a flock of Welsh Mountain sheep: the result is an unusual garden which blends harmoniously into its surroundings.

Bere Mill – the house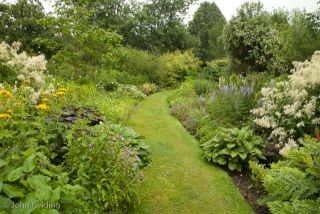 Bere Mill, garden

Santolina, Bere Mill
In the evening came a wonderful end to the day, when some 44 people sat down to an excellent dinner in the Nabarros' converted barn – we were served their own lamb.

The Branch's first Annual Meeting followed an afternoon wandering in the grounds. Business having been dealt with, Laura de Beden, a garden designer and lecturer, gave a talk on 'Designing with plants and nature: a successful relationship'. Laura aims to create gardens of mystery, space and beauty which are appropriate to the site; with charm and enthusiasm she illustrated in the slide show which accompanied her talk just how this can be done.
Undaunted by pouring rain, our final visit on Saturday morning was to the Sir Harold Hillier Gardens and Arboretum, Ampfield (not to be confused with Hillier Nursery). What a magnificent place – 180 acres, over 42,000 plants, 12 National Collections, trees from all over the world. Obviously, it was only possible to see part of such a large area, and we were fortunate in our guides – Roy Lancaster, the well-known plantsman who is responsible for some of the introductions in the garden, and David Jewell, the head of collections. One area we visited was the Centenary Border, a double herbaceous border the length of 11 cricket pitches, which was re-developed in 2010, and is gradually maturing.

Hilliers, Roy Lancaster and David Jewell.
(David Jewell left of picture and Roy Lancaster left centre.)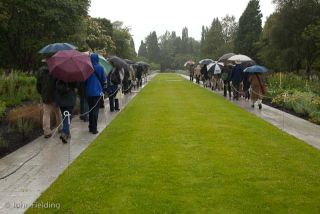 Centenary Border, Hilliers
Many thanks are due to the garden owners who showed us round and provided refreshments, to Rupert and Elizabeth Nabarro for opening not only their garden but also their home for the venue of the Annual Meeting and for a splendid dinner party, to Roy Lancaster and David Jewell, and as always to Heather and Dick who made all the arrangements.
Text Sue Bennison
All photographs by John Fielding except for no. 2 and 4 by Sue Bennison.
May 2012
Wild flowers and botanic gardens in Montenegro and Bosnia
We were blessed with mostly good weather and superb company for our nine-day visit to Bosnia-Hercegovina and Montenegro. We started by spending two nights in the quiet town of Trebinje, exploring the garrigue and grasslands nearby, and we visited Mostar.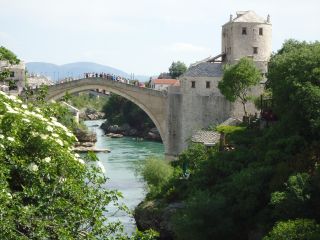 Mostar
On our third day we drove by Žabljak – where we had lunch and walked to the Black Lake – and the Tara Canyon to Kolašin, where we were stayed at the comfortable Bianca Resort, which has the biggest swimming pool I've ever seen in a hotel. From this sheltered spot in the mountains we visited the Biogradska Gora National Park, the botanic gardens of Daniel Vincek in Kolašin and, on another day, of Daniel's friend Mico Prašćević on the edge of Plav near the Albanian border. There were frequent stops as we travelled, one on Mount Kom where there were huge fields of crocus. On some evenings Chris Brickell – our guest of honour – set out sheets of the most interesting plants we'd seen that day, all labelled.

Daniel Vincek with John Fielding

Plantago reniformis in Daniel's garden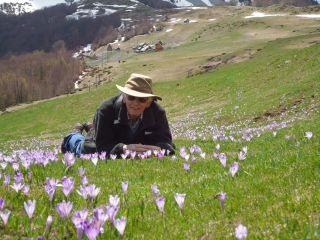 Crocus veluchensis on Mount Kom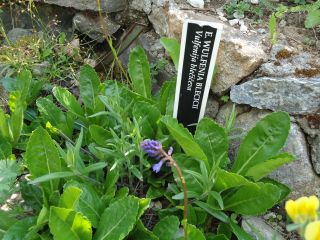 The rare Wulfenia in Mico's garden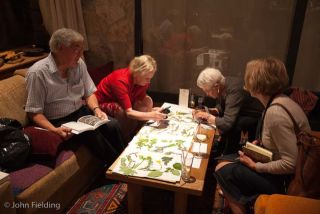 And in the evening, with Chris Brickell...
From the mountains we returned to the coast, visiting Ostrog Monastery on the way. There was a relaxed visit to the Full Monte clothing-optional camp site where their self-sufficiency in water was explained, while on our last full day local member Elita Rose took us for a beautiful walk near Brajici, just below the old capital of Montenegro, Cetinje.
More photos of this trip here.
Text by Heather Martin.
Photos by John Fielding, Brian Constable and Heather Martin.