» Home
» About
» Membership
» Journal
» Sparoza Garden
» Branches
» MGS Forum
» Seed Exchange
» Donations
» MGS Excursions
» Information
» Members' Gardens
» Book Reviews
» News & Views
» Contact
» Search
A garden in Cape Town
This one-acre garden, which is 20 years old, is situated on a steep slope on the south-eastern side of Table Mountain, not far from Kirstenbosch Botanical Gardens. It enjoys a mediterranean climate with high winter rainfall. Most of the garden thrives on this rainfall alone but plants that need more water are concentrated in beds near the house, and are watered from a strong borehole fifteen metres deep. The soil is a mildly acidic reddish loam. The garden "happened" by trial and error over the years and with time became a small haven for wildlife, thereby adding a whole new dimension to the pleasure derived from it, besides making a contribution to the environment. We stopped all use of pesticides more than 15 years ago and have since used only organic fertilizers and home-made compost.
The house was built on a levelled platform facing the slope, the lower 2m of which were retained with interlocking concrete blocks, now hidden under a variety of ground covers and shrubs. The view from the house is across a narrow lawn, partly shaded by a large Celtis sinensis, and up towards the slope.

In this fairly inaccessible area we planted indigenous fynbos plants, initially mainly for practical reasons as they are adapted to the climate and essentially look after themselves, while we concentrated our efforts on exotic plants nearer the house. However, we soon developed a real passion for the beauty and diversity of the Cape flora, whose horticultural value was not much appreciated by gardeners at the time, who mostly aspired to (water-guzzling!) English gardens. Inspired by Kirstenbosch we turned more to indigenous species, most of which were chosen specifically to attract birds and insects. We have counted 50 species of birds that use the garden in some way and have watched the diversity of insect life grow. Problems with pests are rare as natural predators keep the balance.

Although feeling irritated at times when porcupines eat our flower bulbs at night, we regard it as a privilege to share our garden at the edge of a sprawling city with creatures that - in stark contrast to humans - never deplete their resources. When porcupines eat bulbs and tubers, they scatter the small offsets around, thus ensuring the plants' survival.

This slope is like a colourful tapestry most of the year. A variety of Proteacea, Restionacea and Ericaceae are grown along with small shrubs and bulbous plants. A whole bank of Agapanthus praecox flowers blue and white in summer. There is a short dormant period before the appearance of scarlet Haemanthus coccineus and pink Amaryllis belladonna, which heralds the beginning of autumn and a new growth cycle. Most of the fynbos flowers in late winter and spring and the dominant bulbs then are colourful Watsonia ssp.and bright blue Aristea major.

Four species of Sunbirds, which we love, are attracted especially to tubular red and orange flowers, so we planted more Leucospermum spp, Halleria lucida, Kniphofia, Cotyledon orbiculata, Leonotis leonorus, Tecoma capensis, aloes, ericas with elongated flowers, especially the easy-to-grow Erica versicolor and E. glandulosa, to provide nectar all year round.

Our favourite garden feature is a natural-looking pond constructed around a large granite boulder, which was exposed during building excavations. The pond contains yellow Nymphaea spp, flowering in summer, Aponogeton distachyos, flowering white in winter, as well as purple and white Louisiana iris and Juncus spp.
On either side of it there is a small bog garden with Wachendorfia thyrsiflora, Gunnera perpensa and white Impatiens (possibly I. hochstetteri). Pots containing bulbs which enjoy either winter or summer wet conditions are moved around accordingly, e.g. Crinum bulbispermum, C. campanulatum and Onixotis triquetrum (=O. stricta= Wurmbea stricta). Within days of being constructed the pond was inhabited by frogs, and with time we recorded several species of dragonfly which hatch from nymphs living in the water, as well as freshwater crabs, harmless water snakes and several other small species. The pond as a small eco-system never ceases to fascinate.
Another distinct area of the garden is a small indigenous "forest", about 70 square metres of closely planted trees, including those which naturally grow in the damp ravines of Table Mountain, Kiggelaria africana, Diospyros whyteana, Curtisia dentata, Rapanea melanophloes and Cunonia capensis. It is underplanted with shade-loving bulbs, shrubs and groundcovers, e.g. Scadoxus puniceus, S. multiflorus ssp. katherinae, Haemanthus albiflos, Psychotria capensis, Indigofera natalensis, Asparagus spp, Selaginella kraussiana and ferns.In May colourful toadstools punctuate the leaf litter.
Behind the house, in the shade of pre-existing exotic oaks (Quercus robur) and some smaller indigenous trees (Canthium inerme, Cassine peragua, Mackaya bella and Diospyros whyteana), runs a path flanked by long beds planted with orange Clivia miniata, which light up the area in spring.
A large bed near the house, the focus of our earliest gardening efforts, now contains a mixture of indigenous and exotic species, e.g. Betula alba, Cupressus spp., Escallonia, Berberis, Raphiolepis, disease-resistant roses ('Russeliana', 'Mutabilis', 'Crepuscule', 'Iceberg'), aloes, Strelitzia reginae, including the yellow-flowering 'Mandela's Gold', Euryops virgineus, Melianthus major, Abelia 'Francis Mason' and one of my favourites, yellow-leafed Coleonema 'Sunset Gold', both of which are kept clipped round. Amongst these grow various perennials including Agapanthus, Zantedeschia aethiopica, Alstroemeria and Hemerocallis. Cape bulbs including Sparaxis bulbifera, Ornithogalum ssp. and Babiana spp. come up every spring. This bed is irrigated once or twice a week in summer.
The swimming pool is situated on a platform on the edge of the fynbos slope. Above it is a steep 3m-high retaining wall built of concrete blocks - a difficult area which gets no sun at all in winter and full sun in summer. After many false starts a mixture of Eriocephalus africanus, Cliffortia odorata, Helichrysum petiolare, Chrysanthemoides monilifera and the scrambling rose 'Excelsa'- a cerise shower in November- now hides the ugly but effective blocks completely.
This garden is a naturalist's creation grown out of passion and curiosity, in which we and our children learnt much about the complex and delicate web of nature. When our children left home recently, it was time for a change for us too, which sadly meant leaving this garden behind.

Since the beginning of 2010 we have been gardening on a Mediterranean island, and here too we strive to do so in harmony with the natural environment.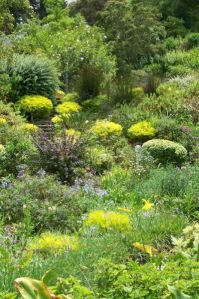 View across mixed border up towards pool area.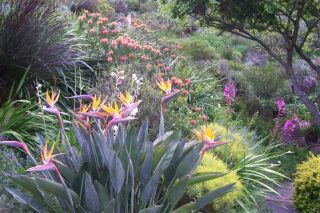 Fynbos slope in spring: Chondropetalum tectorum, Strelitzia reginae,
Watsonia meriana, Watsonia borbonica, Leucospermum 'Scarlet Ribbon',
Geranium incanum.

Fynbos slope in summer.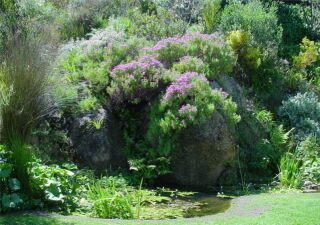 Pond: Lampranthus spp. and Lobostemon fruticosus.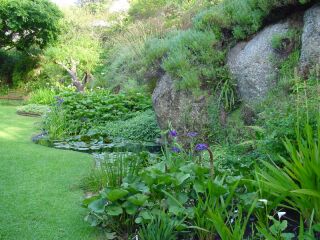 Pond and Bog area.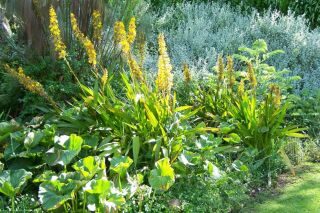 Bog area: Wachendorfia thyrsiflora, Gunnera perpensa, Impatiens spp.,
Melianthus major, Helichrysum petiolare, Cannamois virgata.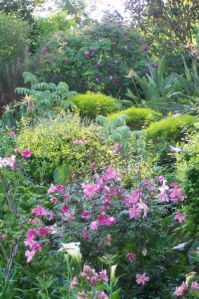 Mixed bed: Zantedeschia aethiopica, Rosa 'Mutabilis',
Melianthus major, Abelia 'Francis Mason', Coleonema
'Sunset Gold', Strelitzia reginae, Rosa 'Russeliana',
Euryops virgineus.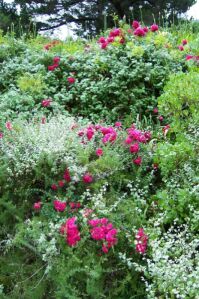 Retaining wall above pool: Rosa 'Excelsa',
Cliffortia odorata, Helichrysum petiolare,
Eriocephalus africanus, Chrysanthemoides
monilifera.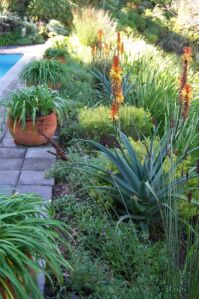 Swimming pool level: Aloe hybrid, Chondropetalum
tectorum, Coleonema 'Sunset Gold', Gazania spp.,
Agapanthus and Hemerocallis in pots.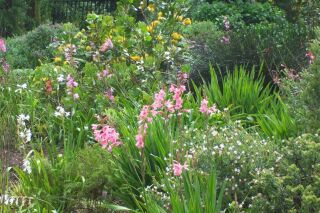 Fynbos in spring: Watsonia borbonica, W. borbonica ssp. ardernei,
Lobostemon fruticosus, Protea cynaroides, Leucospermum cuneiforme,
Chondropetalum tectorum, Polygala fruticosa.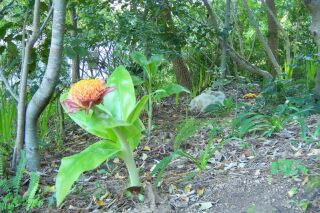 Forest area with Scadoxus puniceus in flower.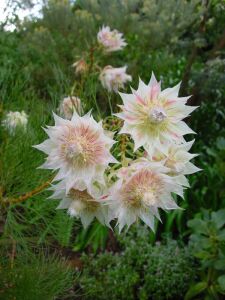 Serruria florida, the Blushing Bride.

Lesser double-collared Sunbird on Aloe striata x maculata.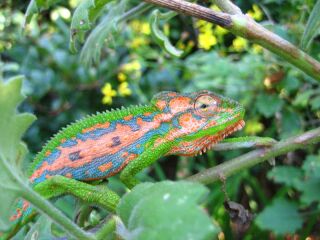 Cape Dwarf Chamaeleon on Senecio spp.