» Home
» About
» Membership
» Journal
» Sparoza Garden
» Branches
» MGS Forum
» Seed Exchange
» Donations
» MGS Excursions
» Information
» Members' Gardens
» Book Reviews
» News & Views
» Contact
» Search
A Garden in Languedoc
My garden on the French Mediterranean coast near Spain was retrieved from overgrown chaos starting 8 years ago. On three sides of the house, the quarter-hectare garden has different planting styles with a third watered by leaky hose. The remainder, mainly an old wild olive grove, is never watered except for the first year after planting and isn't mulched. The soil is poor, mildly acidic and very stony. There are high winds, hot, dry summers and minimal frost. I've learned to adore succulents, agaves and aloes which give winter colour when in flower, plus sedums, the large crassula family and varying euphorbias which give green/grey contrast to summer drought brown. Bulbs for the dry garden include Leucojum aestivum, Scilla peruviana, Hyacinthoides hispanica, Sternbergia lutea. Various grass replacements have been experimented with including Dichondra repens, Phyla nodiflora, Frankenia laevis and Achillea millefolium, of which the first works best here although all need some water.

Crassula arborescens, Euphorbia myrsinites, Phormium, Sedum.
In the background Rosmarinus 'Punta Canella', Pennisetum villosum, lavender.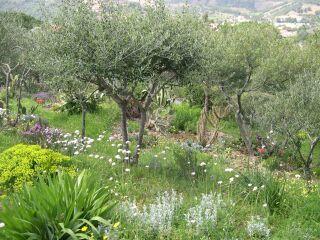 Wild alliums, Euphorbia cyparissias, Iris, Tanacetum densum subsp. amanii, wild asphodels,
Teucrium marum, Cotyledon macrantha, Euphorbia ceratocarpa, Ampelodesmos mauritanicus,
Senecio repens, wild lavender, Pyracanthus angustifolia, wild olive trees and Rhamnus prinoides.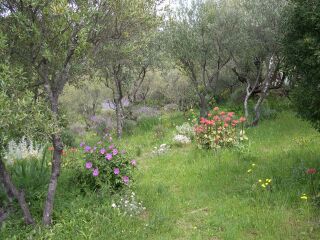 Cistus x purpureus f. holorhodus, Cotyledon macrantha, Rhodanthemum hosmariense,
Artemisia canariensis, Ballota pseudodictamnus, wild lavender.

Convolvulus cneorum, Pittosporum nanum, Virginia creeper.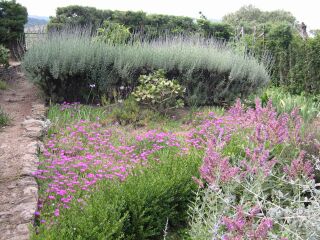 Salvia canariensis, Drosanthemum hispidum, Buxus, Tulbaghia violacea, lavender.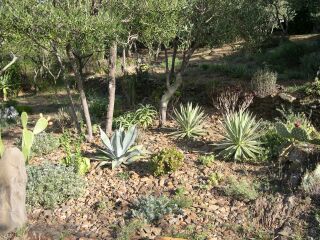 Agave angustifolia, A. 'Blue Flame', Euphorbia myrsinites, Convolvulus cneorum, Crassula ovata,
Aeonium arboreum 'Schwartzkopf' and Aeonium undulatum 'Pseudotabuliforme' .

Santolina chamaecyparissus, Rosa 'Snow Carpet', Stipa tenuifolia, apricot tree,
Cyperus esculentus, Pennisetum orientale, Grevillea lanigera, Savia fulgens 'Ananas',
Lantana montevidensis. Climbers: Passiflora jamesonii, Hardenbergia violacea,
Rosa 'Pierre de Ronsard'.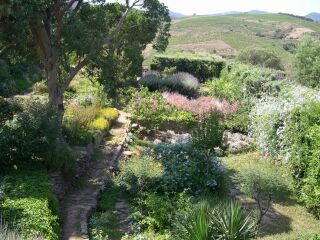 Plumbago capensis, Salvia canariensis, Artemisia 'Porquerolles', Phyla (syn. Lippia) nodiflora,
Callistemon laevis, Bidens aurea, Cuphea ignea, Dicliptera suberecta, lavender.