Our garden in central Italy
When you enter through our gates there is a magnificent olive tree surrounded by an island of plants whose continuous and floriferous display begins in the spring, when there are crocuses, snowdrops, Iris reticulata, tiny narcissi and various cyclamens, and later freesias. Thereafter, throughout the year, there is a succession of plants, including Artemisia, Hypericum calycinum and various Arctotis.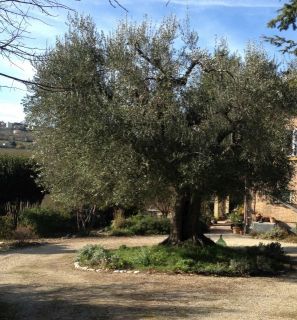 Olive tree at the entrance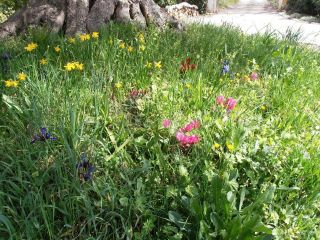 Spring display under the olive tree
We began our garden in 2004. Completing the various areas has been a gradual process – as the Italians say, piano piano. It is a farmhouse garden complete with a vegetable garden that produces a range of vegetables year-round.
When we arrived there was no garden, just a 20cm wide strip of soil across the front of the house with a wisteria planted at one end, growing over a framework of 'gas pipes', and a pomegranate tree at the other. The rest was an unkempt area of grass and weeds.
In front of the house we put down a membrane and covered it with gravel. Here, through the membrane, large architectural plants were planted to give form, including an Agave americana, a Trachycarpus and a Chamaerops (brought growing in a pot from our garden in the UK) which has now quadrupled in size. These are interspersed with low-growing plants, thyme being one of them; when I planted it I had to use a pick-axe to make the holes as the soil was so hard.

Architectural plants growing through membrane covered with gravel
Gradually we extended this area to include beds built from tufa blocks containing a selection of plants and shrubs. After a few years my husband Pete noticed a hibiscus growing in a rough area behind the house, which we rescued and also planted here. It has proved to be a beautiful shrub.
In the winter of 2007 the wisteria, heavily laden with snow, bent down its pipework frame, requiring us to construct a new framework of timber beams to support it.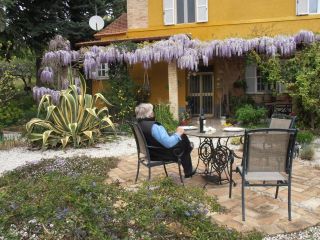 Admiring the wisteria in full bloom
Just to the side of the front door is a bougainvillea which appears to be growing out of the slabs. It is a miracle that it survives because we never water it. A central path of sorts used to extend across an unkempt area with a rose tree planted in it. This turned out to be a wonderful, still unidentified, perfumed rose, which we still have growing today from the many cuttings of it that I took. In another area, behind the house, I found a group of white irises packed so tightly together that they had almost stopped flowering; these I split and we now have several displays of them around the garden. I also shared some with friends.
Much later we extended this area towards the garage – again using membrane and gravel/stones of various sizes. A later addition in this area is a pergola which has two roses, Wedding Day and Masquerade, Clematis 'Armandii' and a passiflora growing over it.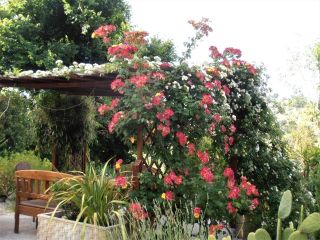 Pergola with roses Wedding Day and Masquerade
A pathway snakes its way through this area leading to a beach garden with a few seaside plants, Pancratium maritimum, Glaucium flavum, Eryngium maritimum and various grasses.

Beach garden with Corylus avellana 'Contorta'
Opposite this is another flower bed with an eclectic collection of plants: roses, hemerocallis, coreopsis, salvia, stachys, agapanthus, Scilla peruviana (mauve and white), Gaura lindheimeri, various irises and gaillardia, with 'free Italian poppies' filling in the spaces each year. These plants are all interspersed with bamboos and various grasses.

Oenothera speciosa, coreopsis and poppies
To the side of the house we developed another area in part of what was originally the driveway. Here we planted another large blue agave acquired from a friend who didn't want it. A local builder kindly dug it up and planted it in our garden with the use of his digger. The soil was very poor - clay and stony – so that I didn't think anything would grow there but I have been proved wrong. To our surprise, now that all the plants have become established the area has become a focal point as we enter the gates.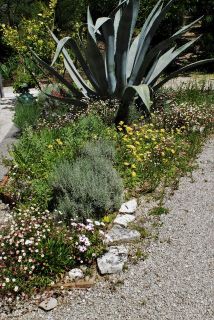 The 'unwanted' agave and under planting thriving on poor stony soil
Later still we began an area at the back of the house, slowly covering the steep bank with various cuttings which have grown and filled the area well, plus several varieties of cistus. Above here is the vegetable garden and beyond that my 'herbaceous' border which has various drought-tolerant plants that have to manage on their own as it is difficult to get water to it. The vegetable garden is 3m wide by 30m long and in the first year I dug the whole of it with my trusty fork and spade. The second year, after digging half of it, I wasn't so keen, so I said to Pete, "It's either a rotovator or no more vegetables". This spurred him on and he found an old trusty machine which does the job perfectly.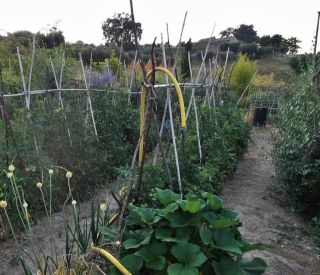 The vegetable garden
The 'herbaceous' border began in 2010 with a few established plants, then slowly I added cuttings here and there; now seven years later it is full and overflowing. One big mistake I made, which I regret, was planting Helianthus tuberosus, Jerusalem artichoke (a favourite of my husband). I was unfamiliar with this plant and slowly but surely it took over the border, so that we had to take drastic measures in order to try to get rid of it. We still have a few areas of it – I love the flowers – but I hope that now we shall be able to keep it under control. We also have various bird and bee boxes around the garden for those creatures who share this space with us.
We have just completed a pathway to the other side of the house which you can read about in the January 2018 issue of the journal.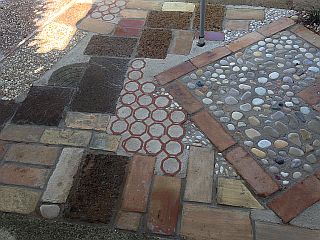 New paving
Jan Thompson
January 2018