MGS Tour of Morocco 2015: A Personal Account
by Valerie Whittington
From The Mediterranean Garden No 81 July 2015 (abridged)
…what follows is a taste of what we saw and the places visited, with an emphasis on some of the gardens in particular.

The first four nights were based near Taroudant at Dar Al Hossoun, a wonderful and most unusual desert oasis-hotel designed by the well-known French landscapers Arnaud Maurières and Eric Ossart. Reputed to be one of the finest gardens in the area, it has a superb plant collection. Its 15 acres of inspired plantings have been described by Louisa Jones as a paradise garden, "like a labyrinth, with new pleasures at every turn".
…we drove out into the surrounding hills to an oasis with palms and fast-flowing rills of water coming straight off the mountains. It was green and beautiful; we were surprised by the fertility of the land as we walked through the oasis. We enjoyed our tagine, cooked outside over coals, sitting on the floor covered in beautiful rugs in a Bedouin tent. We were thrilled with this unexpected outing.
Waking up in the stunning surroundings of Dar Al Hossoun, it seemed only fitting that we spent a morning fully enjoying this area. We were astonished to learn that the planting had only started in 2005. Rainfall is approximately 300mm a year but the garden is supported by their wells which allow summer watering. They have a climate similar to that of Crete, dropping to 5 °C at night in December, January and February and rising to around 35 °C in the summer months. New plants are often grown from cuttings and collected seeds, so there is a feeling of cohesion throughout the garden with repeat planting.We were overwhelmed by the scale and quality of the plants, for example, a Euphorbia tirucalli had grown to a height of at least ten metres. This plant is 150 years old and was saved from being destroyed by building work elsewhere. A few of us grow this euphorbia in Crete but they are tiny specimens in comparison with these 'trees'.
The estate is laid out in different areas: two courtyards, an orchard, an amazing sunken garden and two swimming ponds. The main pool in the courtyard is a traditional long Islamic-style pool, inspired by the Alhambra in Granada, with walkways along both sides, and small ponds to the side planted with Cyperus alternifolius, the Nile papyrusand Thalia dealbata from Central America and Florida. The second pool in the Al Borj courtyard is similar but smaller. In the main Al Hossoun courtyard there were some outstanding plants such as Pachypodium lamerei, an Aloe divaricata and astunning Bauhinia grandidieri in flower. All the plants were in excellent condition.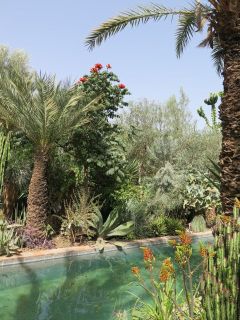 The long pool
I particularly liked the remarkable sunken garden – it was special and quite unexpected. It was created from an excavated section of the land where it had been intended to build a swimming pool*. Wide stone terraced steps take one down to an area with its own microclimate. Here some tropical fruit trees such as banana and papaya flourish, as well as citrus. One of my favourite bulbs, Crinum asiaticum, was in flower. Clivia miniata and Strelitzia reginae,the South African 'bird of paradise', were both very much in keeping with this section as well as the lush Setaria palmifolia, the palms Sabal palmetto and Sabal minor and several succulents.It is a very unusual and memorable place.
An interesting orchard came next with lemons, oranges, grapefruit and guava, Eriobotrya japonica (loquat), Punica granatum (pomegranate) and a Casimiroa edulis from Mexico. None of us knew the latter fruit, described as having a creamy texture, tasting like a custard dessert similar in flavour to mango – a shame it was not in fruit for us to try.
The morning tour also included the neighbouring property, also designed by Maurières and Ossart. Here too there is a magnificent collection of succulents and cacti – the growth rates of which are quite astonishing. The gardens have many rare and exotic plants (over 900) – mainly cacti, succulents and palms collected from around the world, including some of the extraordinary species found in the spiny forest of Madagascar.
We had lunch in Taroudant in the traditional Riad Miryam at tables in an inner open courtyard, surrounded by flowering trees and plants.
We next visited Andrew Patrick's garden just outside Taroudant. This walled estate is entered through an imposing wooden door where we were met by Andrew in front of an exquisite white rose garden. Andrew bought the plot of land for his house and garden ten years ago and his early priority was to spend time on soil preparation before doing any planting. Given the growth of his plants in this time span, it was apparent that this was worthwhile. Four Euphorbia ingens, which were two metres high when planted, were now the size of trees. Many succulents also exhibited a very good growth rate in the sandy soil.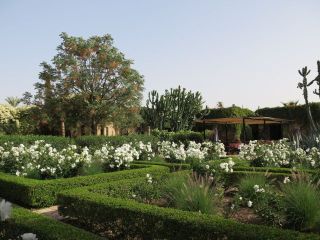 The white rose garden with a Euphorbia ingens in the background
The most stunning feature was the traditional Islamic-style long narrow pool with a fountain at the head. This was a joy to walk down, surrounded by bougainvilleas and scented plants. A collection of large Moroccan pots planted with assorted succulents such as Agave desmetiana 'Variegata', Agave victoriae-reginae and Kalanchoe blossfeldiana, all in superb condition, provided inspiration for our own gardens.
The following day two more outstanding gardens were visited, beginning with the impressive and huge estate of Claudio Bravo, a Chilean artist who lived in Morocco from 1972 until his death in 2011. His work, displayed throughout the house, is quite breathtaking in detail. This is known locally as a palace. We walked through various rooms, all with original artwork on the walls. His own work was incredible yet none of us had heard of him.
The gardens are expansive with large citrus orchards, cactus collections and a pool-side villa. The entrance to the house was extensively bordered by well-established Echinocactus, Furcraea and Agave, all spectacular plants, providing an interesting texture with large boulders and gravel. The courtyard gardens were immaculate on a very grand scale; tree-sized palms graced every courtyard, under-planted with numerous Clivia miniata, a touch adding style and colour. The water features and stone fountains in the inner courtyards were impressive. We were very privileged to be given the opportunity to visit this distinctive and impressive palace.
From here we returned to the town and the charming property owned by the welcoming Karl Morcher, with its fine combination of architectural planting, olive groves and lawns surrounding a beautiful home. Karl gave us a personal tour around the garden, showing us his most precious plants: he is clearly a gardener who does much of the work himself. He too has been gardening here for only ten years, and once again we were astonished at the plant growth.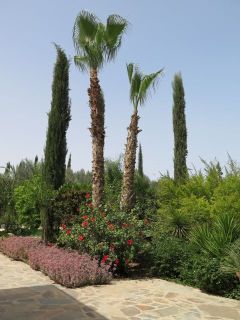 A border with columnar palms and cypress emerging from
pleasantly clashing red hibiscus and purple bougainvillea.
The bauhinia growing from the mass of cotyledon is
probably a self-sown seedling.
A long narrow pool with fountains at the end had centre-stage on the lawns, which were surrounded by lots of mature trees, giving welcome shade – the most spectacular tree on show being a Ceiba insignis with its amazing thorny bark.Another special feature was a pair of lovely flowering Bauhinia grandidieri in the reception courtyard.
The main house was modern in design with large airy rooms and huge glass windows. We were welcome to wander around, and admire Karl's interesting collection of North African art. His home was a perfect example of the merging of house and garden: wide sitting room doors opened on to wide terraces and all the lines became blurred, citrus trees on the terraces gave off their lovely scent. It was very peaceful. We had a delicious lunch, served on the shady terraces around the pool.
We finished the day with a visit to the lively souks of Taroudant.
During our excursions we passed colourful roadside flowers and in the stunning landscapes of this region where mountains meet desert we saw superb populations of Euphorbia officinarum, and lovely tricolored Ismelia carinata (syn. Chrysanthemum carinatum).
There are various routes to Marrakech from Taroudant, but we took the 2092-metre-high Tiz'n'Test Pass – one of the most spectacular routes over the Atlas. En route we saw argan trees, Argania spinosa, a widespread and crucial tree for local people, from which valuable oil is obtained. The narrow road switchbacks up and as we climbed the landscapes below were stunning. The pass is high and exposed but a picnic lunch was enjoyed along the way – in sunshine. The descent into an equally beautiful valley passed through oak, juniper and unique Moroccan Cypress forest. The little farmed terraces are still ploughed with oxen or donkeys and many fruit trees were in bloom. We had plenty of stops to enjoy flowers such as Linaria ventricosa, Polygala balansae and Globularia alypum which I was particularly glad to see in the wild as I had recently planted this species in my own garden.

Argan trees, Argania spinosa, were seen growing by the roadside.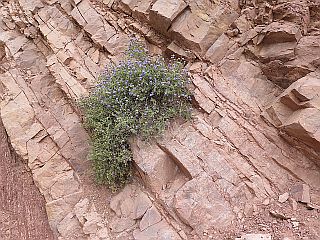 Globularia alypum needs no pampering in the wild
This was a long but scenic day; we arrived in Marrakech during the evening to settle into our comfortable Riad in the old town for four nights.
The next day we had a short city tour, visiting the Ben Youssef Madrasa with exquisite wood and tilework. Then it was on to the remarkable and unique 15-acre Jardin Majorelle with its cacti and blue decor.The Jardin Majorelle is one of the most visited sites in Morocco. It took French painter Jacques Majorelle (1886-1962) forty years of passion and dedication to create this enchanting garden in the heart of the city. I had visited it on a previous trip and noticed how much busier it was on this occasion. In fact a section of my dry garden was inspired by that earlier visit. For example, I have a row of three Euphorbia ingens underplanted with succulents and cacti – although nothing to match the scale of Majorelle.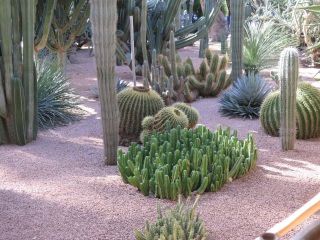 Every view of Jardin Majorelle showed a cactus collection anyone could envy
Lunch was in a lovely riad, with not just excellent food but mature planted courtyards. The afternoon was devoted to exploring the souk or the city at our leisure. This was the end of the 'gardens' tour part of the trip; the next four days were devoted to seeing some of the wild flowers of Morocco.
After breakfast the next day we set off for Imlil. The high Atlas rear up to the south of the city and provide a stunning and imposing barrier to the deserts of the south. Nestled among the foothills is the little town of Imlil with abundant walnuts and flowery orchards. A surfaced road now climbs high above the village to the spectacular valleys on the other side where villages cling to the steep mountain slopes. Here some hardy and dedicated wild flower hunters climbed a scree to spot a few Narcissus rupicola subsp. watieri, and the rest of usenjoyed finding Narcissus jeanmonodii and Romulea bulbocodium ineasier terrain.The landscape was quite magnificent and several of us walked back down to the village for a late lunch at one of the small restaurants in Imlil. On the journey back we stopped to explore a stony slope with steppe vegetation where we saw Dipcadi serotinum among lotus and calendula.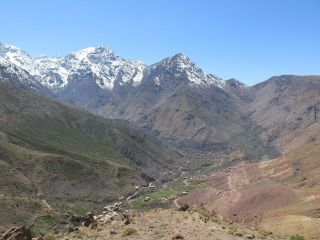 Atlas Mountains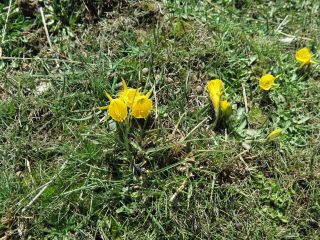 Narcissus jeanmonodii growing in damp ground
After lunch the following day twelve members of the group went to the famous La Mamounia Hotel to have tea and see the impressive gardens of this five-star hotel. In addition to the olive trees that date to the days of the Berber dynasties (700 years old), the gardens have extensive groves of citrus trees, a profusion of red and white roses, Madagascar periwinkle, and amaranthus. The cactus garden has 21 kinds of cacti in varying sizes, species, colours and heights. The vegetable garden was impressive with more than 30 kinds of vegetables, herbs and plants, such as green and yellow zucchini, pumpkins, white beetroots, carrots, radishes and rhubarb. We watched the gardeners potting up seedlings under the shade of mature trees. This was our final day in Marrakech.
The next stage of our trip took us to Afrourer via the Cascades d'Ouzud. The landscape and flora changed several times as we travelled along and through the middle Atlas. The first leg was across agricultural land. We arrived by late morning at the waterfalls of Cascades d'Ouzud. We visited the upper and lower parts of the falls where we saw a few Barbary macaques among the trees. A picnic lunch was eaten here, prepared by Chris and our two drivers. In the afternoon the scenery was wonderful with gorge landscapes. The most impressive stop was to see the amazing populations of Euphorbia resinifera which form spreading masses across the rocks, made up of hundreds of spiny cactoid stems. We arrived in Azrou by late afternoon to stay for one night.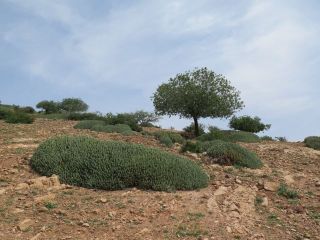 It took some getting used to seeing Euphorbia resinifera
growing en masse on the hillside
Ifrane was our aim for the next day. Our first stop was in the foothills half an hour above the town. There was a distinct change in the weather, it was colder and no sunshine was forecast so it was time to layer up. We were heading up into the mountains towards Ifrane; a popular tourist resort, high in the mountains where the King also has a large palace to escape the city heat in summer. We stopped several times in the foothills to admire different plants, such as Fedia cornucopiae, Echium plantagineum, Glebionis coronaria (syn. Chrysanthemum coronarium), Ismelia carinata, Lavandula pendunculataand many poppies. After lunch we continued the climb to Ifrane and the limestone uplands with stands of cedars. This was our destination for the night.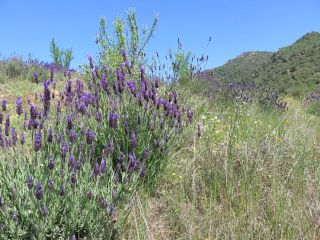 Lavandula pendunculata grew in big plants with masses of tufted flowers
The following morning was spent exploring the majestic cedar forests of the area, enjoying areas with many grand old trees in the snow. Seeing the cedars snow-covered and walking among them was a highlight of the tour for me – they are such stately trees. Several wild Barbary macaques were curious to see us and at times over-friendly.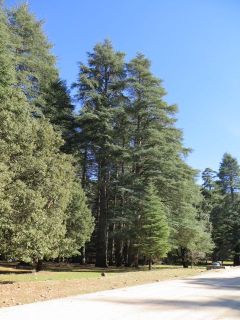 Cedars needing no comment
Another stop was by a lakeside where several pink Androcymbium gramineum were growing but they were past their best for photographs. These, as well as the blue flax Linum austriacum weregrowing in an area where just a few weeks earlier there had been snow. The roadsides in the area had plentiful Raffenaldia primuloides, an endemic with pale yellowflowers, growing alongside Romulea bulbocodium. As it was so cold lunch was taken in a cafe before we set off for Volubilis via a brief stop in Fez, arriving in early evening.

Androcymbium gramineum



Linum austriacum
Our hotel was perfectly positioned above the plains below and within sight of the superb ruins at Volubilis. The next morning was spent exploring this flower-laden and fascinating site. Its excellent mosaics are being well looked after. Our guide was invaluable, providing the history of the site and helping us gain insight into the original city. Hidden between the rocks we found Scilla peruviana, a bulb I would love to have in my garden, Ophrys speculum and O. fusca. The lovely white daisy Urospermum dalechampii, asphodels and Centaurea pullata in different shades of pink and a white form provided a colourful scene to the site. There was also a delightful mauve Centranthus lecoqii which I did not recognise as valerian at first as the flower head was much smaller than my Centranthus ruber at home. I am now keen to try to grow it.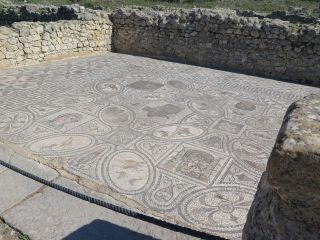 Volubilis - one of the many mosaics
After lunch at the hotel we embarked on the final section of our tour to Rabat, visiting the Chellah on the way. This was not a site that any of us knew anything about and all the notices inside were either in French or Arabic which was a pity as some background information always helps one to gain more from an ancient site visit. Still, it was well worth a visit. A large complex of walls, arches and fallen columns, still carrying legible engravings, gave plenty to photograph with stork nests, the graves of ancient kings and a lovely peaceful garden.
Our final hotel overnight stop in Rabat was complete with a last group meal, as many different itineraries were being followed by individuals the next morning. One of the pleasures of such a trip is enjoying the company of like-minded people, re-establishing acquaintances from previous MGS activities and making new friends, learning about their lives and activities in different countries.
* Editor's note. The original purpose of the excavation was to provide soil/mud for the mud bricks used in the construction of the buildings.
Photographs and captions by Fleur Pavlidis, taken during the MGS trip to Morocco in 2014