» Home
» About
» Membership
» Journal
» Sparoza Garden
» Branches
» MGS Forum
» Seed Exchange
» Donations
» MGS Excursions
» Information
» Members' Gardens
» Book Reviews
» News & Views
» Contact
» Search
Hunting for Wild Flowers in south-West Turkey
by Fleur Pavlidis
From The Mediterranean Garden No 61 June 2010 (abridged)
Leaving the city of Antalya in our little white coaches we first noticed how similar the landscape was to that of Greece – rocky limestone mountains covered in phrygana and pine forest. "Washed by the same sea," as Greeks and Turks say when they are trying to be mutually friendly. Then we noticed the differences: the mountains are a lot higher and seem to have sharper escarpments, the rivers are fuller and the pine trees are Pinus brutia rather than P. halepensis. And so it continued throughout the whole trip: much was similar (and none the worse for it), but much was somewhat different and very exciting for the wildflower enthusiast.
Over the next four days I trailed our MGS photographer, Davina Michaelides, and her occasional replacement Alisdair Aird up and down tracks and hillsides, as our guides, Chris and Başak Gardner, led us to site after site to see every last genus and species in flower and identified nearly every one for us. My list of names adds up to 140, Chris's to 231 including the two additional days I missed, and Vina's photos to 240. Obviously I can mention only my own personal highlights but photographs of many of the plants with their identification will be available on the MGS web site.
Our route on the first day was south-west to Kemer and then north up the valley into the mountains. Papaver gracile, a sweet pink poppy, was spotted on the banks of the road along with tall Campanula lyrata and Stachys cretica looking very similar to the S. byzantina of our gardens. Plants large – Euphorbia characias – and small – Ricotia sinuata – grew seemingly straight out of the rock. Next Chris Gardner took us to a plant he believes could be useful in gardens, Astragalus lusitanicus, a handsome shrub, quite large, with appealing pea-style leaves and creamy white flowers. I collected a few immature seed pods in the hope of growing the seeds back home but without success so far. An endemic phlomis, P. leucophracta whichgrows generally in the area, is distinguished by orange shading on the yellow flowers and attractive arrowhead leaves which can be edged by a pale border – another one to search out for the garden. Upwards we travelled into the Tahtalı Mountain, a designated conservation area, transferring into jeeps as the road got worse. Suddenly among the pines we came across a huge Platanus orientalis, dwarfing all who stood in its shade. Of unknown age but possibly 700 years old, this tree with its great muscular boughs made the hairs on my neck stand on end. Not one to come across at dusk, I think. A large-leaved Cyclamen alpinum was still in flower for the sake of our cyclamen-loving friends and white Anemone blanda was cheerful as always. This area is protected because of a rare forest of Cedrus libani. Forest fires affect Turkey as they do all the Mediterranean Basin and in the past the cedars burned along with the pines. Now there is a concerted effort to protect them and one can only conclude that, however great the effort, it is truly worthwhile for these are queens among trees. The oldest specimens which survived past fires, their wide flat branches stretched out and out, stand silhouetted on the highest ridges.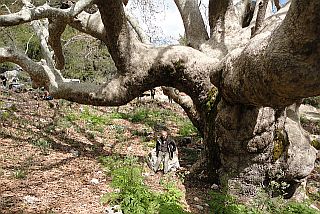 Jean Vaché dwarfed by the giant Platanus orientalis
Day two and Mount Olympos – without the gods who dwelt on the Greek mountain of the same name but with plenty of floral gems. At our first stop we were confronted by an amazing plant which Chris describes perfectly: Lathyrus belinensis, a recently discovered magnificent orange and yellow pea growing in huge spreading carpets. We obviously caught it at its best but I imagine that, like most lathyrus, it has a long flowering period and it would make an eye-catching addition to a wild garden. This was the day for Orchidaceae, starting with the unpromising Serapias vomeracea but going on to Anacamptis coriophora, Ophrys fuciflora, O. reinholdii, O. scolopax ssp. cornuta, O. sphegodes ssp. mammosa, O. umbilicata and Orchis anatolica. Limodorum abortivum looked attractive at first but strangely lost its charm as the discussion about whether or not it is a parasite ensued. At many points we gardeners stood back and watched the experts argue the finer points of identification, all without a reference book in sight. Gladiolus italicus was flowering profusely and flaunting its variability, and at last our first fritillary was seen, Fritillaria acmopetala. From then on we saw lone specimens here and there which made some of us wonder why they didn't create little colonies like other geophytes. The discovery of an Aristolochia hirta was met with excitement though probably not with much pleasure. A very scary flower.
The evenings of these two days were enlivened by illustrated lectures. Our MGS organiser Alisdair Aird showed off his talent for photography as he took us back through the gardens we have seen with the Society. Then Başak Gardner's famous father, Professor Adil Güner, taught us about the history of plant-raising in Turkey before describing the inspirational Nezahat Gökyigit Botanic Garden in Istanbul of which he is Director.
The third morning we spent at the Termessos National Park. The huge archaeological site was fascinating and the flora varied. Nectaroscordum siculum was just coming out along the path, Symphytum brachycalyx nestled among the rocks and Euphorbia hierosolymitana, while looking rather like E. dendroides, had an unexpected honey scent. At the picnic site were huge specimens of Pistacia atlantica and Quercus infectoria, the latter difficult to recognise as an oak with its toothed oblong leaves. The afternoon brought us Geranium tuberosum, hairy-stemmed Ornithogalum armeniacum and totally hairy Ranunculus sardous, all looking wistfully fragile, along with a very sturdy Orchis purpurea.
At a tiny cemetery on the fourth day we found two helleborines; pink Cephalanthera kurdica and white C. epipactoides. They were hard to spot initially but were delicately worth closer inspection. Later at Kovada Lake National Park there was a special treasure – many bushes of Daphne sericea in full-bloom as illustrated and described on In Bloom Now for April 2010. I was not alone in wishing our nurseries would supply it. Meanwhile, having passed by a gaudy horned poppy thinking it must be a garden escapee, I was alarmed to learn that it was a true native, Glaucium corniculatum, as bright and orange as any hybrid. It was so bright that we nearly missed the only grouping of Fritillaria acmopetala we had come across growing right close by. Chris led us to a particular euphorbia, Euphorbia kotschyana, unusual for its glossy leaves, but I was more excited when he drew our attention to a Laudakia (formerly Agama) stellio sunning himself on a rock. Known in Greek as krokodeilaki ('little crocodile'), this fierce-looking lizard can change colour like a chameleon.
At this point my husband and I left the company to go our own way on a search for the Pavlidis family's roots in Fetiye and Levissi, while most of the remaining members of the group moved to Finike for closer access to further mountain sites. When I collected Davina Michaelides's CD of photographs I realised with regret that I had missed a great experience. On the last day in the Ernez woodlands they found stands of Paeonia mascula blooming in all their glory, such as we plant-lovers dream of. And not only that. Earlier they had seen Iris purpureobractea growing in thick profusion, Tulipa armena, hard to distinguish from T. undulatifolia but just as lovely, Fritillaria whittallii and F. elwesii with its checked petals. What a magnificent end to a wonderful trip. As the group flew off, or not, into the ash-filled sky I'm sure many were hoping to return soon.
Our thanks to Alisdair Aird, Martyn Denney of the Cyclamen Society and the delightful Gardners for making the trip possible.
Photographs by Davina Michaelides and Nikos Pavlidis