» Home
» About
» Membership
» Journal
» Sparoza Garden
» Branches
» MGS Forum
» Seed Exchange
» Donations
» MGS Excursions
» Information
» Members' Gardens
» Book Reviews
» News & Views
» Contact
» Search
Gardening in crampons
Text and photographs by Sally Beale
If I said that quite a lot of our Mallorcan garden was dug out with a pickaxe, I am certain most of the readers would know exactly what I was talking about. They might not, however, have had to clamber around their gardens in an attempt to weed them, equipped with steel crampons strapped to the soles of their boots! This is the only way we can tackle ours without slipping down the steep banks and risking a broken leg. It certainly makes for good exercise.
Our garden is situated in the little village of S'Arraco, near Andratx, on a steep hillside facing north-west. It takes the full force of the summer sun while receiving relatively little in the winter, and we have had to adapt our planting to accommodate this. To our surprise, the orientation has not been as much of a problem as we anticipated. We have managed to find plants that are hardy and adaptable, which tolerate both heat and cold, and which do not mind the north wind either. Mediterranean plants are surprisingly tough and many are resilient in unusual conditions. Because they have had to adapt to long periods of drought, heat and at times almost monsoon-like rainfall, they seem hardier than many of the plants we were used to in England.
We started digging out our garden in June 2003, clearing the land of scrub and years of wild growth to reveal the structure of the old dry stone walls underneath. We found five levels of terraces, or bancales, which we cleared, levelled and in some cases widened a little. Once all the old walls had been repaired and made secure, we dug out a path and, using a mini digger, hauled over 800 tons of good topsoil up to these levels, where it was spread to a depth of approximately 30 cms. This in itself took over two months of lifting and carrying. But when it was done, we were amazed how civilized the place already looked, and we set to putting in the watering system with great excitement. We went for a drip system using a pipe buried just under the ground. This has the advantage of avoiding any water loss through evaporation during the hot months and is also less likely to be damaged by machinery. We also took care to lay the lighting cables at the same time as the water pipes, so that the earth, once replaced, need not be disturbed again.
Once this work was complete, we laid a curving path made of second-hand railway sleepers from the Sóller railway where the digger had gone up and down with the soil, and we filled the steps with grey gravel. Now we were ready to plant.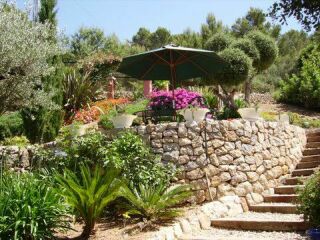 A view of Sally's garden with a dry stone wall
and steps made of railway sleepers and gravel
All the plants we have chosen are Mediterranean plants, that is to say, suitable for a Mediterranean climate. The only exception to this is the luxury of two small lawns, a little bit of green we could not resist in the summer heat. The lawns do take a lot of watering, but in my opinion they justify this by the cooling effect their soft green gives to the eye on hot days, not to mention the wonderful smell when they are mown. Bermuda grass works well here, it is just not worth trying the softer English grasses.
We have banks of pampas grass near the fences to give structure and definition to the shape of the garden, as well as purple solanum, lantana, two varieties of echium and, of course, hibiscus. I have not stuck to any colour scheme in my planting; I have mixed everything up, as I am fond of a riot of colour in a hot climate such as this. It looks spectacular to see all the colours blooming together in spring. It is a happy garden, alive and vibrant. We have a separate cactus bed, with many different varieties, all of which bloom at certain times of the year. The flowers of some are most interesting and amusing.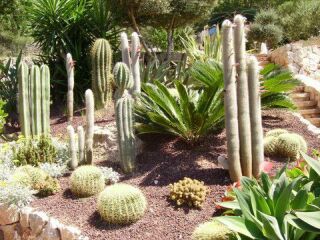 The cactus bed
Next to the cacti are grasses, all together in the same bed, waving in the wind as a counterfoil to the structural rigidity of their neighbours. Below these is a rectangular pond with a two-metre metal obelisk spouting into it at one end. In the pond a few papyrus plants give shelter to the many fish, terrapins and frogs that have taken up residence. Otherwise the pond is empty of plants and has a look reminiscent of the Arab gardens in southern Spain. The bottom lawn is shaded by a large palm and flanked by rows of callistemon, echium, jasmine, bougainvillea and blue and white agapanthus. I have interplanted all these with hundreds of bulbs, anemones, ranunculus, crocus and freesia. It is a wonderful sight in spring.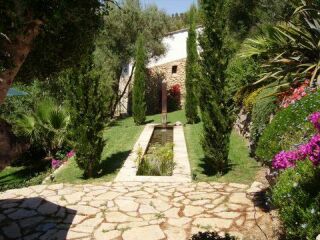 The narrow rectangular pond furnished only with
pampas grass to shelter the pond fauna.
This year's experiment is the planting of an entire bed of David Austin English roses. I have tried these for two years in small numbers, and they seem to do well, so we are now preparing holes to plant many more, all different colours, and all repeat flowering. English roses seem to bloom for about ten months a year here -– they really are wonderful value in any garden. They benefit greatly from a hearty top mulch of well-rotted horse manure in autumn.
The garden was two years old at the end of June, and it is astonishing how quickly the plantings have thickened out and covered the ground. It looks quite mature already and this summer used two-thirds of the amount of water it used in the first year. We should have a good crop of apricots, peaches and nectarines this coming season, and overall we are extremely pleased with what has been achieved in such a short time.
Watching the development of this beautiful green space has changed and enriched my life here beyond all my imaginings. It brings both of us endless pleasure and satisfaction: if we have to strap our crampons on occasionally to weed the hillsides, the reward in colour and bounty more than makes up for the effort involved.
Sally Beale.