Teaching teachers at Sparoza
A perfect spring Saturday in February saw the MGS garden at Sparoza acting as host for a three-hour seminar on propagation for Primary School teachers from central Athens. It was co-sponsored by a fellow society, PYRNA, and the Department of Education who between them are organising and funding a wonderful venture to bring gardening to the concrete yards of schools. They have already started with vegetables growing planters and now want to branch out into ornamentals.

Garden Assistant, Isabel Sanders, volunteered to be the demonstrator, and having been educated for some years in the Greek public school system she was happy to turn the tables and become teacher. What she found was a 'class' of enthusiastic students, not afraid of getting their hands dirty in the practical part of the lesson, nor too proud to ask for help of the MGS members on hand. Notes were taken, questions asked and fun had, after which everyone went away with their own pots of cutting, sown seeds and potted-on plants to care for on a classroom windowsill. As an extra gift they were given dwarf water-lilies to plant in a bucket to be tucked between the planters already sprouting vegetables in the playgrounds.

The teachers are now ready to teach their own pupils the joys of propagation. It is intended to repeat the seminar in October for another group of teachers.

Isabel demonstrates how to sow seeds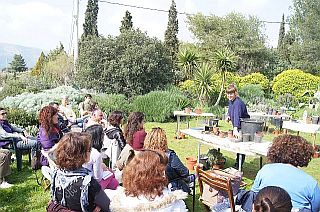 The class on the Sparoza 'threshing floor'

The work tables have been prepared previously by MGS volunteers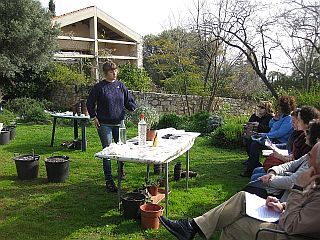 Isabel moves on to taking cuttings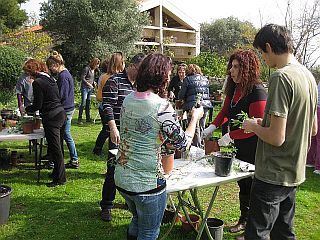 The teacher/pupils try it out for themselves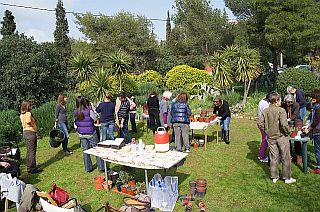 Everyone concentrating on getting it right

Happily showing their pots of seed and cuttings to take back to the school classroom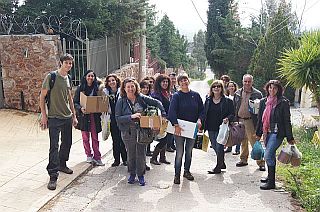 A farewell photo
Text by Fleur Pavlidis
Photographs 4 & 5 by Davina Michaelides
Remaining photographs by Sakis Theodosiou