Sally Razelou, custodian of the MGS garden at Sparoza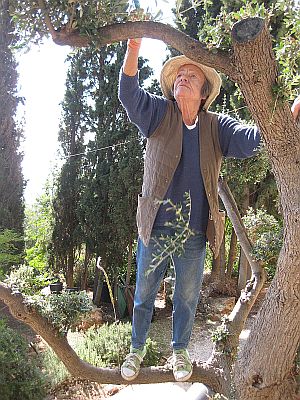 Sally Razelou up an olive tree, October 2015.
Photographed by Davina Michaelides
Sally Razelou carrying a bucket of weeds to the compost pit, February 2015.
Photographed by Davina Michaelides.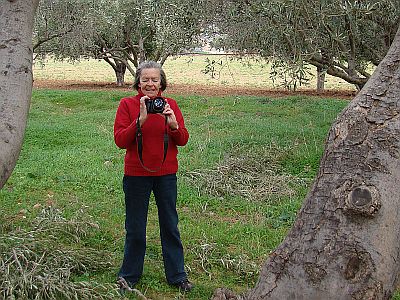 Sally on an MGS field trip, December 2009.
Photographed by Davina Michaelides.
An Interview with Sally Razelou
by Diana Farr Louis
Next year will mark Sally Razelou's 25th anniversary as custodian of the MGS garden at Sparoza. Although she has written about her work at the garden begun by Jacky Tyrwhitt in the 1960s, Sally's own life before 1992 is less well 'documented'. She exists so positively in the present, is so closely tied to the ups and downs of her beloved plants (and dogs), that it's not easy to get her to talk about the past. Bits and pieces may creep into the conversation, enough to formulate a jagged mosaic but not nearly sufficient to create a full portrait. We know that she grew up in Ireland, that she has an encyclopaedic knowledge of botany, and that her 'paintings' with pressed flowers are masterpieces on the walls of the Sparoza living room, but what was her childhood like, where did the love of gardening come from, how did she wind up in Greece?
Last spring, when Rosey Boehm was visiting from Australia, we sat down over a cup of tea on the east terrace and pressed Sally to tell her story.
'I could hardly help but love plants. My whole family were gardeners in Ireland. In fact, we had two gardens there, south of Dublin on Killiney Hill, where [G.B.] Shaw's house was. My father, who was a geologist, used to take us on walks and tell us the Latin names of all the flowers we met. His family was originally Scottish and my maiden name was Abraham. The Protestants espoused Old Testament names in a burst of Reformation fever and my ancestors moved to Ireland with the Elizabethan Plantations.'
'When the War came, my mother, who was American, took us three kids to America for safety. We left on the last American liner, boarding little tenders to take us to the ship outside Galway Bay. I was nine and my father gave me a copy of Palgrave's Golden Treasury. He put some money for our journey in my sister's gas mask. We spent the years in Connecticut and Kansas, with relatives, and sailed back in the summer of 1945. Our absence meant he could contribute to the war effort without worrying about us.
'My own first garden was on a slope facing the Dublin mountains. It was as big as this one and I was newly married, at 22, having only recently finished my studies in history at Trinity College, Dublin. That was 1953. My husband, Peter Jury, was in the hotel business and we used to travel quite a bit. But I also looked after our daughters and the garden, though at the beginning we had a full-time Italian gardener. I started pressing flowers back then, used to make patterns with them on the nursery doors.
'I came to Greece with Peter for the first time in 1961 for an international hotel meeting. And after that we came often. In Athens we used to stay in a special suite at the Grande Bretagne as the owner had become a friend. We also had friends in Dellagrazia on Syros, and I liked the island so much that we bought a house there.'
Much later, on one of her trips to Greece, Sally met artist Nikos Razelos and changed her life. She dedicated herself to her new love but it was also at this time that she began making her flower 'paintings'. At Villa Makris in Maroussi, she finally had a room of her own. When Nikos died in 1987, she had no thought of returning to Ireland but instead started teaching English in two tutoring schools as well as giving lots of private lessons (which she enjoyed and kept up until 2002).

It was through our current treasurer, Jill Yakas, who had shown Sally's work at her gallery in Kifissia, that Sally came to reside at Sparoza.
'In June 1992, I became a tenant of the Goulandris Museum of Natural History – the beneficiary of Jacky's estate – when the former occupants, John and Jay Rendall, moved to their newly restored house in Monemvasia. The garden was tidy but limited. There were no paths, just on the terraces and they were mud not gravel. I know all the plants that were Jacky's, though they were much smaller back then. What was my first impression? I didn't judge it, I was just happy to be in the countryside, on the open hillside, where there were no villas yet. But it was too much for one person to cope with and I seem to keep making it bigger. I was delighted to find a new project in my life, something where I had the freedom to do what I wanted. Two years after I moved in, Caroline Harbouri brought Derek Toms to visit and gradually the three of us conceived the idea for a Mediterranean Garden Society.'
Sally has written up the story of shaping the garden with the various memorable friends and assistants, people like Derek Toms and Leonardo the Albanian, David Priestly, Jennifer Gay, Silvia Villegas, François Travert, Piers Goldson, Peter Dinning, Miyon Yoo and Isabel Sanders, among many others, along with the tale of the birth of the Society. And her conversation was peppered with other great names in horticulture like Frank Cabot of the Garden Conservancy, Penelope Hobhouse and Ann Merck. As she says, 'We got a lot of free press from these eminent garden lovers.'
It's clear that Sparoza has been her magnum opus as well as an 'atelier' or nursery for many young landscapists and gardeners. We in Attica especially have been so fortunate to have Sally as a friend as well as a mentor, and to have this magnificent garden in our 'back yard'. She has made it into such a splendid refuge for plants, animals and people that we all feel better when we go there, walk the familiar paths, inspect the changes and appreciate the constants.
I once heard Sally introduce herself to some newcomers with a 'Let me show you around, I'm the gardener here.' Such modesty and grace are extremely rare. As someone who knew Jacky Tyrwhitt well, I know she would have loved Sally. Wasn't it splendid synchronicity that an Irish woman succeeded a Welsh one to make this garden on a Greek hillside? A Celtic sorority taking root in Greece.