» Home
» About
» Membership
» Journal
» Sparoza Garden
» Branches
» MGS Forum
» Seed Exchange
» Donations
» MGS Excursions
» Information
» Members' Gardens
» Book Reviews
» News & Views
» Contact
» Search
A Very Mediterranean Surprise: Sardinia
by Sally Beale
photographs by Alisdair Aird
Reprinted from The Mediterranean Garden No. 89, July 2017
Hardly any of the twenty-eight MGS members who visited the beautiful island of Sardinia in the first week of May had ever been there before. It seems to be one of those mythical places that everyone had always intended to go to, but where they had somehow never managed to arrive. Thus the sheer size and diversity of the place, its extraordinary landscapes, natural beauty, wealth of flora, and utterly wonderful local cuisine came as a revelation to many of us. For one week we were treated to a fabulous tour of the island, working our way from south to north in the company of Maurizio Usai, a native Sardinian, ably assisted by Italian MGS member Filippo Dimatteo. The restaurants in which we dined – and the local delicacies that Maurizio chose for us to try – added greatly to our overall enjoyment of the trip, so much so that one participant renamed us the MGGS at the end of the week, aka the Mediterranean Garden and Gourmet Society.
The programme began with a day in the historic centre of old Cagliari, watching the extraordinary procession dedicated to Saint Efissio, the patron saint of the city, whose intercession had saved the inhabitants from the worst ravages of the plague in the sixteenth century and who has been honoured annually in the streets for the last three hundred and fifty-one years. The procession consisted of groups of locals from all over the island, parading through the city dressed in the colourful costumes of their region, most of which are antique, having been sewn generations ago and handed down from father to son and mother to daughter expressly for use in this sacred ritual. Each region boasted different colours and styles, and many of the groups were accompanied by traccas, traditional wooden ox carts, lavishly decorated according to the trade of their area, and pulled by huge beasts richly caparisoned with flowers and bells and medallions of gold and silver. As the procession wound its lengthy way around the streets, young girls, youths and old people carpeted the way with fresh rose petals, tossed with abandon from hand-made baskets to soften the road for the gilded bier containing the image of the saint as it passed by. The oxen and their traccas, followed by thousands of brightly dressed devotees, then left the city to process through the countryside on a three-day pilgrimage, before returning home for another year. It was an astonishing sight, a throwback to medieval times, and we were very privileged to have seen it all.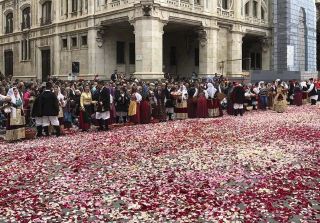 A highlight was the fantastic 361st annual Sant'Efisio procession, ending with the street strewn with millions of rose petals for the arrival of the Saint's image



Moments later the Saint's carriage arrived
After lunch we travelled to the south-east of the island, passing saltworks inhabited by hundreds of pink flamingos who thrive on the tiny shrimps which live in the briny water, to arrive at Capo Carbonara. Once out of the city, we were immediately and suddenly in a wild and untamed landscape, green and lush, comprised of rolling hills covered in Cistus monspeliensis and Euphorbia dendroides, all turning flame-red as the summer drought began, and Ampelodesmos mauritanicus, as well as a myriad of other flora. The country became hillier, drier and dustier as we approached the little town of Solanas, and by the time we had passed through it and arrived at La Pietra Rossa, the home of Maurizio's parents, the ground was mere dust and stones. Imagine our gasps of astonishment, then, as we opened the dusty gates and entered into an English cottage garden in the middle of this desert land. Aged just fourteen, Maurizio began experimenting with his father's garden, begging to be allowed to cut down some of the pine trees, and replace them with shrubs, flowering plants and ornamentals. With the reluctant and dubious agreement of his parents, he started to plant a hidden treasure-trove of mediterranean natives, interspersed with David Austin roses, flowering perennials, endemics and bulbs. The small area of lawn, landscaped around a papyrus-lined pond, was cleverly designed to divert your eye and tempt you down various pathways, so that the garden appears much bigger than it actually is and gives the impression of a scented and cool oasis, shaded by trailing climbing roses and leafy shade trees.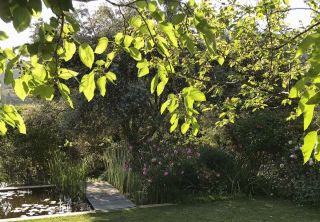 A corner of La Pietra Rossa, the garden of our member and guide Maurizio Usai
It is a place to linger, to rest, to look past the carefully pruned native shrubs to the green hillside framed beyond, and to dream.... The varieties of plants in the garden are far too numerous to name here, but Maurizio was particularly proud of a new rose in his collection, of a beautiful, mauve-pink with an open habit and a velvety black centre, called 'Eyes For You', which was a true eye-catcher. We left the garden reluctantly, but with a feeling of utter peace and calm, and all inspired by what is clearly possible, given imagination, skill and patience, in the direst of gardening circumstances.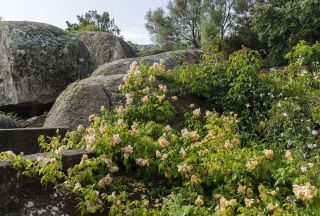 Rosa 'Crépuscule', an excellent climbing rose for mediterranean gardens, clambering over boulders at the new garden Maurizio Usai is creating for himself in Sardinia. The one not yet flowering beyond it is the interesting Rosa banksiae x bracteata 'Joanna Millar'.
The next day found us heading west, past rugged hillsides covered in wind-shaped Juniperus phoenicea, growing tall and upright as if they had been placed there and pruned to form a delicate natural topiary. Underplanted with masses of Helichrysum stoechas and Euphorbia dendroides, the mountains resembled a sculpted parkland of exquisite beauty in every shade of green and pink, framed by the blue sea beyond. We spent a happy hour "botanising", and finding endless Halimium atriplicifolium among the rocks on the roadside overlooking the dramatic sea-cliffs of Porto Flavia and Pan di Zucchero. The abandoned silver and lead mine complexes of Iglesias and Laveria Lamarmora provided an interesting insight into former Sardinian life, as did the Punic-Roman archaeological site of ancient Nora, which we visited later that same day. This is the most important site of its type in Sardinia and is under constant excavation, with many well-preserved mosaics and remains on display. Masses of Papaver argemone and Papaver rhoeas fluttered between the ruined walls of the old city, whilst Drimia maritima provided a pleasing contrast in colour.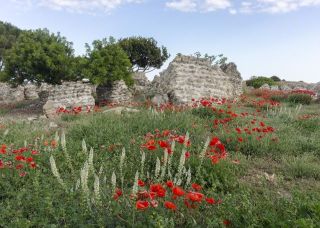 A natural garden among the remains of the Roman city of Nora - Reseda alba among the poppies
The inland area of southern Sardinia beckoned us next, and on the upland basalt plateau of the ¨Giara di Gesturi¨ we had a wonderful morning's walk. Meandering along ancient paths, lined with Quercus suber, the cork oak, in various stages of bark removal and with Quercus ilex, we found a staggering variety of wild plants. From tiny Leucojum aestivum, Allium triquetrum and Scilla hispanica to numerous varieties of orchids, woodland plants and bulbs, grasses and ferns, the native plants we saw were legion. But nothing had prepared us for the astonishing and moving spectacle upon which we came as the woodland opened out to reveal a huge seasonal freshwater lake. There, fetlock-deep in acres of snow-white Ranunculus aquatilis, grazed seven or eight wild horses, undisturbed and unperturbed by our arrival. The lake gave off a sweet smell, birds and butterflies danced across it, and the famous horses, from a herd of around five hundred or so, munched placidly on among the flowers. It was enchanting. Descending the mountain upon our return we stopped to view, but did not visit, the strange Nuraghic tower at Barumini, one of several such remains of an ancient prehistoric civilisation. This glorious morning was rounded off by another complete surprise in the form of an outstanding luncheon in a Michelin-starred restaurant, inside an old stone house in a remote village in what seemed to be the middle of nowhere. This really is the island of surprises! Replete, and full of excellent local wine, we dozed on the way to the village of Milis, just far enough away for most of us to come to in time to visit the excellent private nursery garden of Maurizio's friends, Italo Vacca and Leo Minniti. ¨I Campi¨ specialises in Hemerocallis and drought-resistant plants, and is wonderfully colourful in the dry landscape in which it finds itself. Leo came from Canada to settle there, and has created a successful business, selling mainly to the trade from his wide selection of drough-tolerant varieties. We were all delighted by his abundantly-flowering bromeliads, hanging in the trees near the house with no apparent sustenance.
Our day ended happily with a visit to the vineyard of Argiolas, where we cheerfully tried their delicious vintages and ate a light supper, before heading back to Cagliari for our last night in that city.
Next morning Maurizio offered a guided tour of the historical centre of old Cagliari, lending us the gift of his architectural and engineering background, as he explained all to us. We saw the fabulous Baroque church of San Michele, then the church of Sant' Anna, simple and unadorned inside following its restoration after wartime bombing, before a visit to the small but important Botanical Gardens.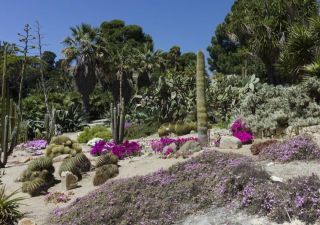 Part of the 150-year-old Botanic Garden in Cagliari, with over 2,000 species, and now reinvigorated under its dynamic current director Gianluigi Bacchetta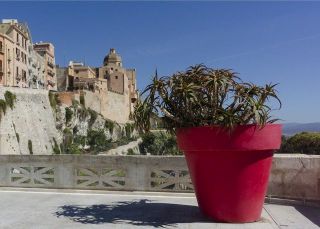 A giant flower pot, taller than a man, one of several on the high bastion of Cagliari's citadel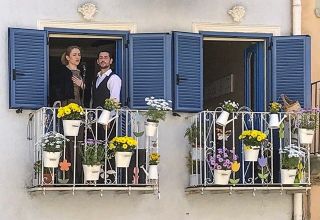 A Sunday morning tradition in Cagliari is street opera, favourite Verdi and Puccini arias sung from a flower-filled house balcony in the square outside San Domenico church
After lunch we headed away from the city to the north, driving along the spectacular canyon of the Rio Cannas, with its steep cliffs and plunging gorges. Along the river banks below the road flourished wild oleanders. As we arrived in the area of Ogliastra, the landscape changed dramatically, and we were surrounded by huge and impressive rock outcrops, known locally as tacchi (singular: tacco). As we wandered slowly down to the waterfalls of ¨Su Murmuri¨ a refreshing swim was a tempting option, but time was pressing so we had to resist, and enjoy the slow walk back up to the bus instead, passing large clumps of Helleborus lividus subsp. corsicus (syn. H. argutifolius) under the Crataegus trees as we climbed away from the river.
After a most interesting visit to the Maria Lai art foundation, we headed to Bari Sardo for another delicious dinner based on local specialities, and a night in a pretty hotel right on a deserted, sandy beach.
Leaving Bari Sardo the next day, we drove along small mountain roads, passing Baunei and Urzulei with their interesting geological rock formations and ancient specimens of Taxus baccata and Quercus ilex. Under one enormous, overhanging tacco we clambered about balanced on the slope to admire at close proximity the beautiful clumps of Pancratium illyricum. Perched on the cliff, flowers at our feet, we looked back at the village of Ulassai, clinging precariously to its steep mountainside, snow-covered in winter and remote from the outside world. A short drive down to a lower altitude found us at a beautifully decorated, small private hotel, ¨Su Gologone¨, where we were, yet again, treated to a feast of specially chosen local delicacies. These included suckling pig, spit-roasted before an open wood fire, croquettes of lambs' brains, and other interesting delights. After lunch, the much-needed swim was finally enjoyed in the still, cool, deep waters of the Supramonte karstic springs. A snoozy drive took us to the north of the island, to the little port and fishing town of Olbia, where we were to spend our last two nights.
The final day of the tour was spent near Telti, where we were privileged to see the new project on which Maurizio is currently working. This is a beautiful area, a landscape of enormous hanging rocks, perched delicately on top of one another as if placed there by ancient hands, rather like a natural Stonehenge. Here Maurizio is developing his own personal estate, and is currently at the stage of planting the garden at ¨Petra Majore¨. At the time we visited, a collection of species and cultivars of Watsonia were all in colourful bloom, alongside many different David Austin roses and other species. In the fullness of time there will be a lake, a private vineyard and a woodland garden, but we shall have to be patient and hope that we may be lucky enough to be invited back in a few more years. Another of Maurizio's garden design projects was next, the privately-owned ¨Giardino Dei Fontanili¨, a seven-year-old delight of rambling walkways across trickling watercourses, rose beds, clipped myrtles, native shrubs, and a large, stone water tank, which resembles an ancient bath and is the family's swimming pool.
Part of the Giardino dei Fontanili, designed by Maurizio Usai
Not far from the garden we stopped in a remote area to gaze in wonder at the enormous and utterly majestic 4,500-year-old Olea europaea subsp. oleaster, known affectionately to the locals as ¨S'Ozzastru¨.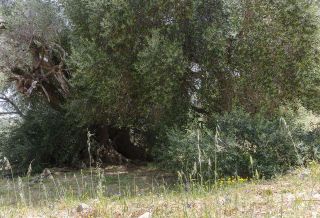 This extremely ancient wild olive near Lake Liscia, said to be some 4,500 years old and "the world's oldest". Similar claims have been made for olives in Crete, Israel and the Lebanon
Another amazing lunch came next, delicious and delightful in every sense, and another post-prandial snooze brought us to our final destination at Rena Majori. This spectacular, wind-buffeted, final walk along the rugged coast showed us examples of tall Pinus pinea growing horizontally for twenty or thirty metres along the ground, unable to grow upright due to the constant wind. Armeria pungens, Cistus salviifolius, Juniperus oxycedrus and the endemic Astragalus thermensis abounded in this desolate spot. Here we saw our final views of the spectacular Sardinian coastline, its rugged and dramatic cliffs, its treacherous rocks, and its beautiful, lingering sunsets. It was a fitting farewell to this most beautiful and extraordinary place. We straggled back to the bus with sadness and regret at leaving, but filled with gratitude at having had an insight into this most special of places, all of us hoping to return again one day.