MGS Tour of Gardens of the Cape - Stellenbosch and Cape Town, South Africa 31 October to 9 November 2016
A Visit to South Africa: Part 1. Botanical Gardens
by Valerie Whittington, reprinted from TMG No. 88 April 2016
A Visit to South Africa: Part 2. Private and Community GardensPrivate and Community Gardens
by Valerie Whittington, reprinted from TMG No. 89 July 2016
MGS Tour of Gardens of the Cape: The Programme
by Angela Durnford, MGS Branch Head in Italy
A Visit to South Africa: Part 1 – Botanical Gardens
by Valerie Whittington
photographs by Valerie Whittington
Our trip to South Africa in November 2016 exceeded all expectations. Everyone I knew who had already visited the country had told me how beautiful it was with its stunning countryside and flowers. I hadn't, however, expected the sheer scale of the mountains. Twenty-four gardens were visited; it is impossible to write about them all and do them justice within the scope of this article. Thus I shall reflect on aspects of what we saw, sifted a little in my mind since we returned.
My thoughts divide the gardens into different categories. Some, like The Company's Garden in Cape Town, provide the historical context of gardening in the Cape. The botanical gardens of Stellenbosch, Kirstenbosch and Harry Porter also have historical importance but with a strong educative mission. Two more recent community initiatives, Green Point BiodiversityShowcase Garden and Soil for Life, made a strong impression on me and I'll spend some time recounting aspects of these visits. Many of the private gardens have been in the families for many years (generations) and also have a strong historical aspect as regards both the settlers and garden style. Lastly, some of the people we met through the visits, whether owner, manager or gardener, made a lasting impression and have influenced my selection.
The Company's Garden
We walked through the city's roots and its history when we visited The Company's Garden in the heart of Cape Town. It is an oasis of shade and greenery, surrounded by the city's most important concentration of old buildings and museums. Established by Jan van Riebeeck in 1652, just weeks after his arrival in the Cape, to provide water and fresh produce to passing Dutch ships that plied the spice trade route between Europe and the East Indies via the Cape of Good Hope, it takes its name from the Dutch East India Company. By the 18th century, what was created as a vegetable patch had been transformed into a world-renowned botanical garden spread over 18 hectares which exported bulbs and other produce to Europe.
The Rose Garden, planted in 1929, is the site of the Cape's first wine-producing vine and a source of rose water in the Dutch era; it contains many rose varieties, set out in a radial pattern. The Palm Grove was beautiful as, were many trees such as the African tulip tree, tree aloes, a huge Ficus elastica, a stunning Grevillea robusta in bloom and – the oldest tree in the garden – a 300-year-old pear, still looking good.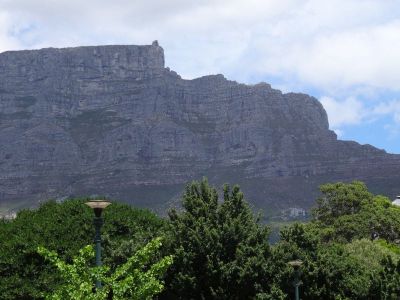 Table Mountain as a backdrop to The Company's Garden
Babylonstoren
This is a historic Cape Dutch farm dating back to 1692 which boasts one of the best preserved werfs (farmyards) in the Cape.
It was inspired by The Company's Garden and also provided more much-needed produce for passing ships. The buildings have been added to but are very much in keeping with the original farm buildings.
We were shown around in two groups enthusiastically led by Liesl, the head gardener, or by Gundula who was a volunteer at Sparoza for three years from 2003.
In a beautiful setting, its magnificent gardens are laid out over eight acres. They are divided into 15 sections comprising vines, fruit, berries, indigenous plants, fragrant lawns, a prickly pear maze, a clivia tunnel, a collection of cycads, a newly introduced rockery and many trees of historical and botanical importance. A secluded path runs along the stream where thousands of clivias flower in spring, though these had finished by the time we visited: it must be a spectacular sight. A special 'puff adder' shade tunnel winds its way along with tree trunk stands designed to display the flowering clivias for visitors to enjoy at close quarters.
Everything is grown organically with extensive use of compost as mulch. I learned a great deal from Liesl. Her dry gardening philosophy is very much in keeping with MGS principles and aims to support greater understanding of gardening through education and respect for the environment, for example developing a waterwise approach and gardening organically. Bird boxes have been erected in appropriate places including those for barn owls. Seats in a quiet corner were modelled on weaver bird nests.

Seats in a quiet corner were modelled on weaver bird nests
Students are offered 3- or 12-month programmes here which include experience with fruit and vegetables as well as with succulents and other collections. There is a good website (http://www.babylonstoren.com) and informative notices in various sections of the garden. They even have their own free Babylonstoren app which connects to a library of gardening information and useful tips as well as giving direct access to top South African gardening specialists 'to turn you into a better gardener'
The garden boasts a plethora of trees of historical and botanical importance. Liesl explained that the Cape had few large trees as a result of the early settlers chopping them down for building, so that many European species such as oaks were planted. The Yellowwood (Podocarpus latifolius) in particular has become rare as the few remaining trees are old. It is also the national tree of South Africa. All podocarpus are now a protected species here. Forty-nine different plant species indigenous to South Africa grow in Babylonstoren and are much valued.
Water channels run throughout the garden providing irrigation. Many different groundcovers, both mineral and vegetable, are used on paths and as mulch, for example abalone shells, peach stones and different lawn alternatives; Roman and Cape chamomile (watered every two days), thyme and snowdrift also make fragrant lawns following a tradition from the Middle Ages. This is not only practical but also looks very attractive.
Tecoma capensis and Portulacaria make unusual but effective hedging. Vegetables are grown with companion planting to deter pests. Ducks wander on a rotational basis in different areas to eat snails. Espaliers act as attractive and functional dividers between crops of apples, pears and quince. A 70-year-old guava is still fruiting, as well as a tree reputed to derive from a cutting from 'Newton's apple tree'.
What impressed me most here was the high quality of all the plants and sections; they were gardened with pride preserving tradition, but were also entrepreneurial, such as in the sale of high-quality vegetables and other products to ensure that the garden can continue to flourish. I liked the use of different mulches, the experimentation with several different varieties of the same vegetables and the shade houses which were both functional and of architectural interest. Babylonstoren represents for me a commitment to its historical roots within a spirt of moving forward and experimentation, encompassing its business initiatives through the shops and restaurant for example and educating the wider public. I found this visit uplifting and the mountain backdrop magnificent.
The Harold Porter National Botanical Garden
This was my first introduction to fynbos vegetation which is unique to the Cape. It is a beautiful, secluded garden set between mountain and sea in the heart of the Kogelberg Nature Reserve, right at the centre of the coastal fynbos area where the flora is richest. It consists of ten hectares of cultivated fynbos garden and 190 hectares of pristine natural fynbos encompassing mountain slopes with wind-clipped heathland, deep gorges with relic forests, flats and marshes with restios, sedges and bulbs as well as dunes adjacent to the beach with specialised salt-adapted plants. The garden is renowned for its waterfalls and amber pools. The main fynbos families of proteas, ericas and restios are present as well as other important families such as irises, daisies and orchids.
Backed by Leopard's Gorge, this was a magical place in its all-encompassing natural environment and in its commitment to informing the visitor about the richness of the abundant flora. Leopards (at least six we were told) still live in the area, as evidenced by footprints and ripped bark on some trees.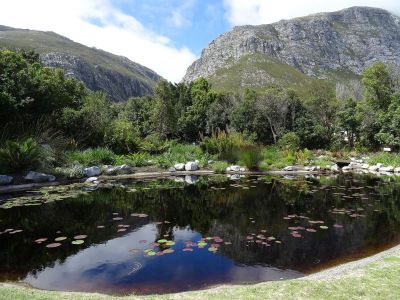 Leopard's Gorge, Harold Porter Botanical Garden
This was an excellent introduction to South African flora growing in large clumps or swathes, for example an iris looking rather like an Asphodeline lutea and Dietes bicolor with its unusual flowers and attractive shape, growing from rhizomes that produce clumps of slender arching leaves and flat, creamy-white flowers and black markings that last only one day. We saw banks of Dietes grandiflora in many places – even though these flowers also last but a day, new flowers open over an extended period. I would love to have some in my garden. Erica mammosa, a shrub with lovely pink flowers was being pollinated by sunbirds – apparently the shape of the flowers attracts these wonderful birds. Watsonias and lachenalias lit up the garden with their colourful spread. We were to see these plants used in many of the gardens we visited, but here they were in their natural habitat.
Helpful notices explain different areas including the 'fynbos experiment', a-wait-and-see section where different soil types are being used to see what will grow there, for example on limestone. Being based on an old riverbed, the garden has a high water table with the result that few proteas grow in the higher areas but lower down we did see stunning Leucospermum(the PincushionProtea).This is a genus containing about 50 species of evergreen flowering plants native to South Africa, where they occupy a variety of habitats including scrubland and mountain slopes. Their tough, leathery leaves are arranged spirally, with amazing and unusual flowers produced in dense inflorescences also having large numbers of similar and striking carpels. The yellow Leucospermum cuneiforme, the small fragrant white flowers of the Gordon Bay pin cushion, Leucospermum bolusii, Protea obtusifolia (the limestone sugar bush) and Protea scolymocephala (the thistle protea) particularly caught my attention. I found these plants remarkable because they are so different from what I am used to in the Mediterranean.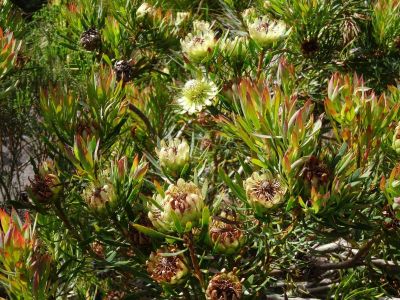 Protea scolymocephala, the thistle protea
This excellent visit set the scene for many of our experiences to come.
Stellenbosch Botanical Garden
This was very different to the gardens described above. Situated in the historical centre of Stellenbosch, it is the oldest university botanical garden in South Africa and is an important teaching and research institute. This compact garden of four acres houses an enormous diversity of plants, both indigenous to South Africa and exotics from all over the world. We were welcomed by the dynamic garden curator Martin Smit (ex Kew Gardens and Longwood Gardens, Philadelphia). Martin has written well-respected books on succulents and stone plants of which there is an excellent collection here in the greenhouse and garden.
Our guide was Wim Tijmens – a former curator himself and, in his own words, 'a better story-teller'. He was indeed amazingly knowledgeable. The Stellenbosch Botanical Garden is particularly notable for its collection of fynbos plants and dry-country succulents, mainly from Namibia. The most remarkable example of these in the greenhouse is a Welwitschia mirabilis, one of the rarest plants in the world: the trunk of this one is reputed to be 1,000 years old. With leaves that capture moisture from sea fogs and long taproots that search out any underground water, it is well adapted to the harsh arid environments of the Namib Desert where it is found, although recent evidence suggests cause for concern as populations may be under threat from a fungal pathogen. Wim pointed out the female which bears green cones. The male plant actually looked dead.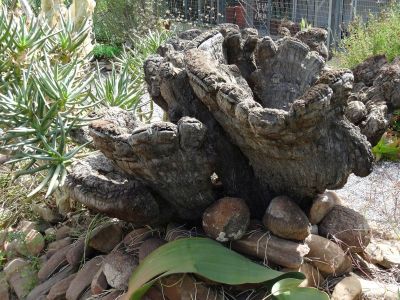 Welwitschia mirabili, one of the rarest plants in the world
We learned that South Africa has the largest number of cycads in the world. In Kirstenbosch they are now tagged because many have been stolen to sell as they have become a popular garden plant. We saw fine Modjadji cycad (Encephalartos transvenosus) specimens here, known as the Rain Queen. Being gymnosperms, these plants produce male and female cones on separate plants. In the past, the pith from the stem of cycads was removed, then enclosed in an animal skin, fermented and ground into a meal which was used to make bread – hence their Afrikaans name of broodboom.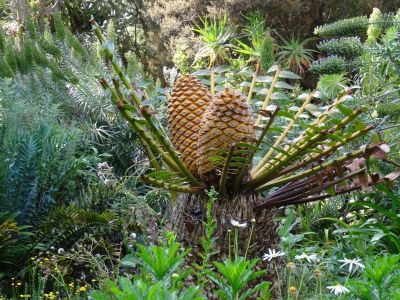 Cycad in Stellenbosch Botanical Garden
Other notable plants seen here included rooibos, famous for its tea. Rooibos tea or red tea is a medicinal herbal beverage obtained from Aspalathus linearis, a bush plant found in South Africa. We were told that rooibos is not a true tea, but a herb. The fermented tea is red in colour. A beautiful old butterspoon tree (Cunonia capensis) made a good home for Spanish moss (Tillandsia usneoides) and other bromeliads. Gardenia thunbergia, a beautiful flowering shrub with strong heavily perfumed flowers and decorative fruits, is endemic to South Africa. Several of us were interested in its large woody seeds; Wim enjoyed explaining that in the wild, if not eaten by large browsers or elephants, they remain on the tree for years, in fact he implied that they had to 'pass through an elephant to germinate'.
This was a fascinating place to visit and the space available here barely allows me to do it justice. I have merely given a taste of our experience, enhanced by a delightful guide and a few unusual specimens.
Kirstenbosch National Botanic Gardens
Kirstenbosch lived up to its reputation as 'the most beautiful garden in Africa and one of the great botanic gardens of the world'. It was established in 1913 to protect the immense floral wealth of the Western Cape, Cecil Rhodes, once the landowner, having bequeathed the garden to the nation in 1902.
We spent most of the day being guided through its many gardens: succulents, arboretum, fynbos, ericas, buchus (South African shrubs, the leaves of which are used in traditional medicine), cycads and pelargoniums, with a special visit to the Bulb House with over 1000 bulbs (only 200 grow in the garden). Lunch was served in the Kirstenbosch Tea Room, followed by two further visits to the Cape Peninsula Garden and the Conservatory.
The lower slopes are planted with lush indigenous flora and blend into a natural cover of fynbos and forest at higher altitudes, accessible by a network of footpaths. It is the only botanical garden planted entirely with indigenous plants thanks to the incredible floral kingdom of the Cape. Covering only 0.04% of the earth's surface, the Cape is said to have 75% of the world's endemic plants in spite of having 'the poorest soil in the world' with wind, sun and no summer water. Succulents are of course adept at storing water and the 1,400 bulb species disappear underground once they have flowered. The 42 hectares of the garden become over 300 when the mountain is included. Our guides explained that no municipal water is used, only that coming from the mountain which is stored in the garden's own reservoir.
The Kirstenbosch nursery experiments to find out which plants will survive here in poor soil with no nutrients or phosphates because of the dam that was built for Cape Town. As a result, we learned that trees in the Western Cape can grow only alongside rivers and streams. In the park, where there is the highest rainfall, there are 35 endemic trees but there are 1,400 tree species in the Cape Floral Kingdom region, including as far along the coast as Port Elizabeth. We walked the famous Camphor Tree Walk. When Rhodes bought all the (park) land he had trees planted from all over the British Empire, many chosen for the visit by Queen Victoria.
The curator of the Conservatory gave us an introduction to the extensive and famous Bulb House, considered the best in the world. The Cape has an extraordinary diversity of bulbs with a significant proportion belonging to the Hyacinthaceae and Amaryllidaceae families, as well as lachenalias and orchids. Given a staggering 9,500 species to choose from, they select the most beautiful and/or rare to cultivate. Most had finished flowering by the time of our visit but we could appreciate the scale of cultivation. All are hand-pollinated in an insect-free environment to avoid hybridisation to be grown from seed or are propagated by division. It was interesting to learn that it is more important to control humidity rather than temperature in the Bulb House. Only 200 of these bulbs can be grown in the garden, either because of the rainfall or because of the problem of porcupines digging them up. The South African species we saw included ixias, gladioli, freesias and eucomis, Cyrtanthus (orange), Clivia miniata (both orange and yellow varieties) and C. mirabilis (from winter rainfall areas).
The glass-roofed conservatory boasts several desert plants from the arid regions of southern Africa. At the centre a spectacular baobab, the largest succulent in the world, towers over the other plants.
The oldest part of the garden is the Cycad Garden and the Dell, a very attractive section with large trees, a stream and a pool set below a natural amphitheatre planted with ancient cycads that evolved over 150-200 million years ago. There are 38 varieties here, many very old; one of them is reputed to be a thousand years old. We were told that in their natural habitat they are the most threatened plant on earth. Plant collection has become a problem with 23 stolen from Kirstenbosch itself in the last few years. This means data lost as well as the plants themselves.
Another problem was highlighted by the guides: the stinkwood tree (Ocotea bullata) with its hard, dark wood is often planted with the yellowwood (Podocarpus latifolius), the National Tree of South Africa. It is special because of its traditional use in magic. These trees are endangered because robbers ring them to steal the precious bark used by traditional healers. The bark has to be taken from a living tree, resulting in the tree's early death. There are just three in Kirstenbosch and they are much prized.
The Tree Canopy Walkway, located in the arboretum area of the garden, close to the Cycad Garden at one end and the concert lawn at the other, was amazing. Built to commemorate the Kirstenbosch National Botanical Garden's 100th anniversary in 2013, the Boomslang is a 130m canopy walkway discreetly located in the tree tops of this famous garden's arboretum. It offers striking views of the garden, the mountain and beyond. Its ingenious design makes it a sinuous structure that winds its way through the trees – like the tree snake after which it is named. The outer steel frame resembles the ribcage of a snake enclosing the wooden bridge and looks a bit like a roller-coaster ride for pedestrians. It was a very special experience walking within and above 400 or so trees.

Boomslang walkway, Kirstenbosch National Botanic Gardens
The footpath through the Fynbos Walk has to be among my favourite sections in the park. It took us through the colourful fynbos vegetation with many wonderful proteas such as the King protea, Protea cynaroides.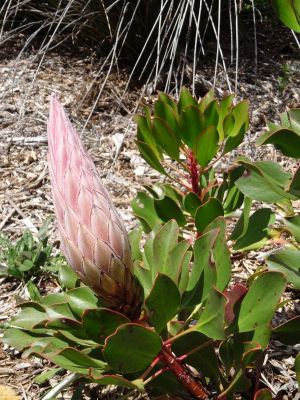 King protea, Protea cynaroides
The pinwheel flowers of Leucospermum cuneiforme were in bloom, attracting several birds especially the long-tailed Cape sugarbird.
Here we also saw beautiful Strelitzia reginae including the Yellow Bird of Paradise, Strelitzia reginae 'Mandela's Gold' – a rare, yellow form of the well-known orange Bird of Paradise. This spectacular cultivar, named after Nelson Mandela, has flaring yellow sepals and blue petals reminiscent of a crested tropical bird.
Few gardens can match the sheer grandeur of the park's setting against the eastern slopes of Cape Town's Table Mountain. It came as no surprise to learn that the Cape Floristic Region, including Kirstenbosch, was declared a UNESCO World Heritage Site in 2004.
A Visit to South Africa: Part 2 – Private and Community Gardens
by Valerie Whittington
photographs by Valerie Whittington
As I noted in Part 1 of this article (TMG 88), many of the private gardens we visited have been in the families for many generations and also have a strong historical aspect. They range from family homes and gardens managed by the owners themselves to large estates with employed gardeners and designers.
The Vergelegen Estate
This is deemed the third most important garden in South Africa; it was founded in 1700 and has been nominated a World Heritage Site for its authentic depiction of Cape cultural heritage. Over the centuries, the owners of Vergelegen have contributed to the preservation of the unique facets of the estate. Among the historic buildings, 17 formal and informal gardens are intricately interwoven and make this a botanical as well as a historical gem.
As well as its extensive gardens, Vergelegen is home to many significant trees. These ancient trees are huge and majestic.
The five historic camphor trees "guarding" the historic Vergelegen Homestead are believed to have been planted in 1700 by Willem Adriaan van der Stel and were declared National Monuments in 1942; the other camphor trees on the estate were all seedlings from these five magnificent specimens.
An English oak (Quercus robur), over 300 years old, is believed to be the oldest living oak tree in Africa. The "Royal" Oak was planted in 1928 from an acorn originating from the last of King Alfred's oak trees at Blenheim Palace in Oxfordshire. Acorns from this tree were personally collected on 23rd April 1947 by His Majesty King George V1 for planting in Windsor Great Park.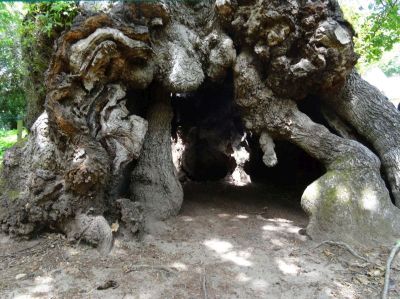 Ancient oak at Vergelegen

Oaks at Vergelegen
A white mulberry (Morus alba) dating back to 1700 is the only surviving relic of van der Stel's attempt to start a silk industry in the Cape.
The philosophy within the gardens reflected the historical periods in the past 300 years. I liked the planting approach of the simple with the bold, the formality of the gardens (for example, the rose garden) with the informality of grasses and woodlands. Here we plunged straight into the majesty of the Cape.
Turnbury
In the Devon Valley area outside of the town of Stellenbosch we visited Turnbury, the charming family home of MGS member Sue Harvey, situated on a small farm with a vineyard producing 1800 bottles of merlot a year. The garden is seven years old with a vegetable garden, a picking flower and rose garden, a herbaceous border, a clipped garden, a courtyard and a selection of mature trees. The beautiful house is much older. Sue, an impeccable host, was clearly delighted to entertain us as fellow MGS members.
Committed to waterwise gardening, she has modified the garden over the last few years, for example taking out a rose bed and replacing it with more drought-tolerant plants such as rosemary, teucrium, salvias etc. She explained that the country uses 98% of the available water and thus that new water restrictions were to be imposed from the day of our visit; South Africa is a 'water-stressed' country. The gardens that we had seen so far seemed to use copious amounts of water.
I particularly liked Sue's recent project where the banks of a perennial stream had been planted with indigenous plants. The vegetable garden was delightful too with poppies, sweet peas and other annuals. Many of us admired a stunning climber, Thunbergia grandiflora, laden with flowersagainst a wall.
The sun shone as we enjoyed a delicious lunch prepared by Sue and her family in this delightful garden with wonderful views of a magnificent mountain range.
The Dylan Lewis Sculpture Garden
This is a completely different garden from that described above and on a much larger scale. Since 2009 artist Dylan Lewis has been working on the creation of a seven-hectare sculpture garden around his studio in the foothills of the Stellenbosch Mountains. Here urban landscape and cultivated farmland give way to a rugged wilderness where leopards still roam. The immensity of the encircling mountains and the sculptures in their setting create an awe-inspiring amphitheatre of art and nature. The garden hosts over 60 sculptures and has been planted (starting in 2011) with mainly indigenous plants by horticulturalist Fiona Poweri, who was our enthusiastic guide.
Fiona told us how Lewis had hired an excavator and began shaping the contours of what would become this amazing landscape and sculpture garden. The elements in the garden had to fit and contrast with the mountain backdrop. In digging out a dam to make a lake he created huge mounds which made interesting levels for planting and siting individual sculptures. It became all-consuming to the extent that he demolished the house and rebuilt it. Riverbed stones were used both in the building and in making paths which fit perfectly into the landscape.
Along four kilometres of paths one is led on a journey through different 'rooms', from the heather hills to the meditative, tranquil poplar grove. The garden focuses on indigenous species, particularly fynbos. It is planted to give year-round colour and Fiona described how it peaks in July, August and into September, when its many buchus and ericas are in fragrant flower. A large selection of ericas, particularly unusual varieties such as Erica verticillata which is extinct in the wild, was sourced from Kirstenbosch National Botanical Garden. Our visit in early November showed Lewis' desire for experimentation with colour and texture in clipped hedging as well as with flowers. There were impressive sweeps of pink from mass planting of Watsonia marginata and W. borbonica andlarge areas of yellow Athanasia. The long-term vistas created were stunning.
Sculptures have been carefully placed in harmony with the landscape: the human form, shamanic figures, monumental abstracted fragments and Dylan Lewis's iconic great cats. The big cats of Africa like the cheetah and leopard, all life-sized, look out over vineyards towards the sea in this incredible landscape on the slopes of the Stellenbosch Mountain.
I found this a fascinating, creative place with expansive vistas, scents and the sounds of nature, with tranquil groves, hidden paths and lush indigenous vegetation. We were privileged to learn about and see the work of this intriguing artist.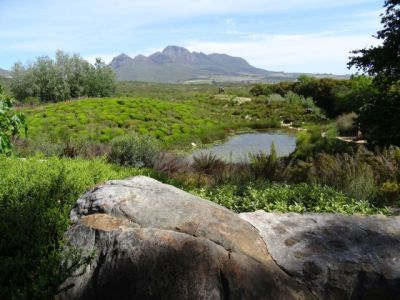 Dylan Lewis Sculpture Garden
The Old Nectar Garden
This garden outside Stellenbosch is the creation of Una van der Spuy, the doyenne of South African gardening. Una created these gardens during the 71 years that Old Nectar was her home, from 1941 to her death in 2012. Set among the magnificent sandstone mountain ranges of the Jonkershoek valley and among 200-year-old oak trees, they extend over two hectares, comprising a collection of individual garden areas, each with its own character. Since 2012 Una's son Peter has been developing the garden, adding an indigenous garden and a woodland terrace.
We were welcomed at the entrance by Peter and his newly retired head gardener Annas, mentor to Richard Ndbele who has recently taken on this role.
I walked and talked with Richard and learned how he had worked in the garden since 2008, trained over the years by Una herself and mentored by Annas. It was evident that he had enormous respect for Una. He told me how every day she would teach him the Latin names of three plants and he would be expected to know these the following day when tested. His knowledge was testament to this discipline. He touchingly described how she completed her twelfth book, about her favourite plants, and died just four days before her 100th birthday.
This is a garden packed with plants full of colour with no room for weeds to grow, with every space full of lush carefully chosen trees, shrubs, climbers and groundcovers. Of particular interest to me was the inclusion of roses, many of which are 50 years old, inter-planted in herbaceous beds with lemon thyme used as groundcover in between. I am not a fan of rose beds – I admire roses but not especially in dedicated patches. The way in which the roses here were integral to the beds was delightful and created bold, rich colour within them. I admired this approach very much. Asking about the impressive and particularly large blooms of some of the roses, we were told that it was a combination of care including deadheading, the use of slow-release fertiliser, compost and manure as well as spraying to keep rust and black spot at bay.
A huge Australian frangipani, Hymenosporum flavum, caught everyone's attention, as did sizeable magnolias, Magnolia × soulangeana. Apparently when Una first saw a specimen of this magnolia she rushed to a nursery and bought their entire stock of eight which were planted across the garden in view from the veranda in front of the house; they are grouped with camellias, adding to the colour. A splendid Redwood Cedar, now 70 years old, was grown from seed which, according to Richard, Una had smuggled into the country in her bra.
The garden uses an incredible amount of water on a daily basis, which is collected from mountain run off, a spring and its own bore hole. Water use in all the gardens we saw is a long-term issue.
I much admired a delightful shrub in shade with its tall blue-purple flowers, Plecranthus ecklonii. This is native toSouth Africaand grows to a metre or more in height; I would love to have it in my own garden.
This is a garden, very English in style, produced with love and knowledge gained through experience over many years. Una van der Spuy started out as a novice – she writes that there were then no books or magazines on gardening accessible to her as World War Two limited their availability. However, she learned from local nurseries whose owners were plant enthusiasts and the rest of her knowledge was gained by trial and error. Clearly she wanted to pass her enthusiasm and expertise on through her writing and in the training of her own son and staff. Peter is taking the challenge further.
Rustenberg
In many of the gardens visited the majority of original trees and plants, such as oak and beech trees and numerous varieties of rose, were chosen from Northern European gardens, with the result that many of these gardens appear English in the grand traditional style and not at all mediterranean. This was especially true of Rustenberg, the well-known Wine Estate and Garden which dates back to 1814.
This is a large farm garden with mature trees and unusual plants, surrounding the estate's spectacular Cape Dutch buildings. In 2001, Rozanne Barlow, the wife of the current owner of the estate, undertook to restore and regenerate the garden. It is made up of a series of 'garden rooms' each with a different theme, but essentially English in style. The garden features an impressive double herbaceous border which also includes many old-fashioned roses.
Walls have been constructed, and the site where the old tennis court stood is an eleven-circuit Chartres-style labyrinth, laid out in half brick and river stone. Many in the group explored this, enjoying its tranquillity. The swimming pool was converted into a lily pond and is now home to many fish. A pergola supports lovely climbing roses, clematis and other fragrant climbers. Grand trees around rich herbaceous borders planted with foxgloves, salvias, agapanthus, delphiniums, anemones, valerian, day lilies and much more can be described as a plant lover's dream. The 'borrowed' landscape of vineyards and mountains beyond make this, like so many of the gardens we visited, even more spectacular.
Sadly there is no space here to write about every garden we visited, though they all deserve it and in different ways they all had something to offer. However, I must mention just a few more, albeit briefly.
Stellenberg is one of the Cape's finest country estates and most important historic houses. Built in 1740 and owned by a freed slave woman, it is surrounded by a fascinating garden. Inspired by Sissinhurst, the celebrated National Trust garden in the UK, by Una Van der Spuy of Old Nectar and by Pam and Rozanne Barlow from Rustenberg, the garden of Stellenberg is laid out, like many gardens, in different 'rooms' ranging from the White Garden, filled with the heady scent of white lilies, to herb and vegetable gardens, formally planted areas and a more natural part with a stream, each with its own design and unique characteristics. Tall hedges protect it from the wind and are a reminder of both English and Dutch colonial influences. A book, Stellenberg. The Story of a Garden, has been written about this internationally acclaimed garden with its old-world dignity and ancient oak trees.
Montpelier, in the Franschoek area, is set in a dramatic, mountain setting on a steeply-sloping one-hectare site. Here we were greeted by the enthusiastic owners, Dunbar and Jacqueline Kew Brown. Superbly designed to fit into the landscape, high on a hillside, this garden merges naturally with what is beyond – so much so that in places it is difficult to tell where the garden ends and the hills begin. Baboons visit regularly. A beautifully designed house (with definite French influences) sits on a level piece of land and there are wonderful views across the valley. It is an artist's garden which uses natural stone, indigenous plants, clipped shrubs, winding paths, colour, texture and form to dramatic effect.

Montpelier
The garden at Fresh Woods was different to many of the others that we saw and had a very relaxed feel to it. It is a rambling, romantic plantsman's garden with major collections of heritage and species roses and many rare trees and shrubs, some collected from the wild, including rhododendrons, wild hydrangeas, deutzias, cyclamen, epimediums and lilies. I particularly enjoyed seeing sweeps of alstroemerias growing in abundance as these are a favourite cut flower of mine but one that I am unable to grow in Crete. Fresh Woods is much more natural and wooded than most of the gardens we visited and many of us got lost just wandering around as we kept finding ourselves walking through the same grove of black bamboo. Here there was a fascinating collection of plants from those already mentioned to huge gunnera and more than 70 Japanese maples, all with different textures and colours to delight the eye.
Last of all the private gardens I shall mention is a smaller one, Auldern, part of a larger farm: a plantwoman's hilltop garden that skilfully mixes unusual indigenous and exotic plants, with a focus on colour combinations. Jenny, the owner, told us it has been 'twenty-three years in the making from scratch'. Stony clay soil has been improved over time with manure and compost, managed without fertiliser.
An impressive 20-year-old cypress makes an impressive statement. When sailing around the Greek island of Cephalonia Jenny and her husband had collected seed from a tree growing wild in Glyfada and sowed it with evident success.
The steep sloping terraces and very windy site of Auldern made it easy to identify most easily with my own garden in Crete and was the nearest to my own philosophy and style of garden so that I could take away ideas including about planting combinations. We shared several plant selections such as aeoniums, heliotrope, euphorbia, artemisia and agapanthus but different varieties. Yet there were also more exotic specimens like a Ceiba speciosa, reputed to be one of the most beautiful trees in the world, and Digiplexis 'IlluminationFlame' and D. 'Raspberry' caught my eye.
I particularly liked the large swathes of colour achieved by multi-planting of species and roses integrated into borders, giving the garden overall unity.
Although fairly 'English' at first glance, the principles here are in keeping with MGS ideals, using many native plants and being conscientiously waterwise, crucial in view of the new water restrictions imposed here.
The Community Gardens
Last, but not least, were the 'community' gardens. The first, the Green Point Biodiversity Showcase Garden, set in Cape Town's Green Point Urban Park, was built for the World Cup in 2012. The Garden features no fewer than 300 local plant species, animal sculptures, interactive displays, demonstration gardens, a Khoikhoi display and more – the aim being 'not only to educate, but to inspire and value biodiversity'.
Marijke Honig, our guide, brought this visit alive. She was excellent, knowledgeable and passionate about her subject. Having recently completed a major replanting of the garden she spoke about it combining 'all her loves': as a trained botanist, with awareness of diversity through her degree study, she 'looks at the world as an ecologist'. During a year spent as a scholar at Kirstenbosch she designed an education centre. The influence of this experience is evident from the design and superb information provided throughout the park. With a designer's eye for planting and diversity, she is now a landscape consultant. She clearly enjoyed speaking with and sharing her enthusiasm with our appreciative group.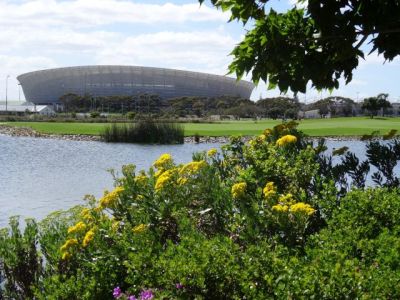 Green Point Showcase Garden
Green Point is interesting, catering for many with children's play areas, tennis courts and other similar amenities one would find in a public park. Commitment to this common area is shared by the City Planners and users of the 50-hectare park. This is demonstrated by good transportation to the park and walking routes alongside the sea, as well as general upkeep of the park overall. There has been positive feedback from the wider community. It was a joy to see families making the most of this green and open space.
However, the most impressive aspect for me was the layout and accessible explanation given to each themed area by attractive signs. There was so much to see, read and learn about in this fascinating area. There was a series of demonstration gardens for small back yards and examples of grass or lawn alternatives, highly pertinent with the water crisis. In and among the plants are displays, original art work created especially for the garden, including wire art, mosaics, ceramic statues, cut-out steel animals and interpretive boards with illustrations and photographs. A strong message, for me, was the section at the end of the trail we followed: An 'Everything is connected' display board gave positive messages about how people can help, for example
Take a nature walk
Value nature on your doorstep
Join a volunteer group
Plant a local indigenous plant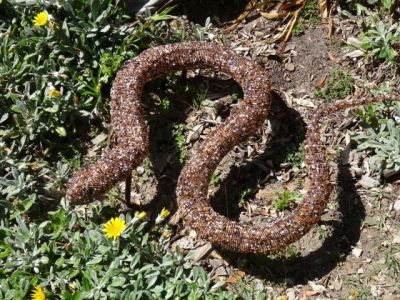 Green Point Showcase Garden, sculpture
Even though the garden has a strong message – that much of Cape Town's biodiversity is unique and under threat, particularly as Cape Town is a biodiversity hotspot with many species occurring nowhere else in the world – it is also a space in which to spend time, not simply to visit a garden, for families to play, for friends meeting friends and for time out. I left feeling uplifted and that the aim 'not only to educate but to inspire and value biodiversity' is being achieved.
Soil for Life is a Cape Town-based non-profit organisation that assists communities in the Western Cape to overcome hunger, poverty and unemployment through the establishment of community and home food gardens. Our visit to this organic vegetable, herb and fruit demonstration garden was both impressive and humbling. Pat Featherstone, founder and Director, told us about her experiences in the 'other' Cape Town to that which we had visited, that of the townships filled with row after row of home-built shacks. Here she and her trainers are teaching people to grow their own food using environmentally sound methods, to understand their own health and nutrition and to gain skills with which to generate income from gardens.
I particularly liked the way that Pat stood back and let her staff explain their work themselves. Prince, a trainer and the garden supervisor, and Dixon, an intern of six months, told us enthusiastically how they 'learn every day' and showed us around this amazing garden. They described their water-saving methods: building mound/hump beds beneath which trenches have been dug and filled with logs and organic matter, green waste, soil placed on the top, mulched with wood chip and then planted with stepping stones between. Prince explained that it was the end of the season but they have had vegetables such as spinach and kale interplanted with strawberries, for example, and marigolds to help deter pests.
They showed us vertical gardens made with wooden pallets which create more space as well as a microclimate, particularly when set against a wall. They validate how very small gardens can be productive in growing vegetables. Notices around the garden such as, 'Conserve water, water deep,' remind helpers and reinforce the philosophy being promoted.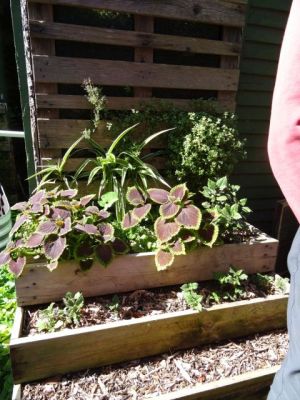 Soil for Life - wooden pallets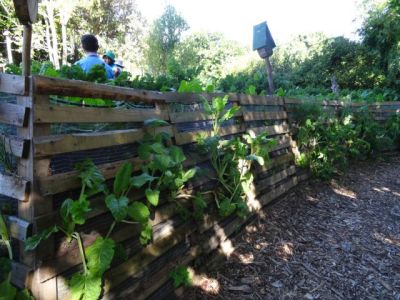 Soil for Life - vertical vegetable bed
Green manuring is carried out for heavy feeders such as cabbages. Bottles are recycled and used effectively as edging material on borders. Buckets and tins are used as water collectors around the garden, simple drip irrigation is created by upturned plastic bottles placed strategically by certain plants or made into cloches to warm seedlings or protect from slugs. Old tyres make fun and useful planting spaces. Scarecrows and simple bird scarers are placed strategically.
All waste from the garden is composted as well as grass clippings 'from the street'. I've never seen such a huge, effective composting area tackled with such efficiency and pride. After eight weeks of their composting process, matter is broken down ready for use or sale. It is one of the enterprising ways in which the project raises money. In fact proceeds from the shop and the sale of compost are at present covering the gardeners' salaries.
We were given a presentation about the aims and methods of Soil for Life. After a brief introduction, Pat Featherstoneintroduced Sandy. She described the background to her commitment to the organisation where she has worked since 2000. As an unemployed single parent looking for work but at that time 'all fancy, wearing high heels and lots of make-up', she did not expect to be successful; she also hated the smell of compost. Now, 16 years on, she values her training with Pat and her experience working with underprivileged families, she understands the importance of the first point learned: to enrich the soil. She remembers when she was first digging a trench with Soil for Lifehow 'big mamas' scavenged the compost for food: her eyes were opened, it changed her life. Now, as a trainer, she describes herself as 'Pat's Earth Daughter'.
Natasha joined the programme in 2013. She spoke about the knowledge and energy she has gained from the programme, having previously been one of the scavengers described by Sandy and having gone to centres for handouts of food. As a trainer she now recruits others from different areas to help them learn to 'do this for themselves'. She is proud that, 'I can feed my child and pay my rent,' and is thankful for the opportunity she has been given and is now helping others to do the same.
To join the Home Food Training Programme participants are expected to pay 15 Rand. For this they receive three booklets, seeds, seedlings and mulch. Starting with digging a trench at the participant's home, the programme involves weekly training with the aim of learning something new each week. Trainers re-visit the homes each week to check that tasks are completed. Both Sandy and Natasha feel that the home gardening programme works better than community gardens as it is on a one-to-one basis.
Pat Featherstone followed these impressive presentations with a more detailed one of her own incorporating 'the bigger picture' of the organisation. Without doubt the low-cost methods taught here enable gardeners to harvest large amounts of vegetables, fruit and herbs from small spaces using very little water and no harmful chemicals. I was also highly impressed by the enthusiasm and energy of the workers and trainers we met here, with a gardening philosophy very much in keeping with our Mediterranean Society's aims.
So I reach the end of this recollection of the high spots of our South African trip. As I look back at what made the greatest impression on me, the following aspects stand out:
The sheer beauty of the Cape with its unique Cape Floristic Kingdom with more than 8,000 plant species, at least 70% of which are only found in this region. In our visits to the botanical gardens and the Green Point Showcase garden we learned about and saw the groups that contribute extensively to the floristic diversity of the cape: the ericas (730 species) and especially the families Proteaceae (proteas), Restionaceae (reeds), Iridaceae (irises) Asteraceae (daisies), Rutaceae (buchus), Fabaceae (legumes) and Mesembryanthemaceae (vygies).
The historical context of the grand houses and gardens, the colonial Dutch style properties in particular.
So many of the private gardens had an English or northern European feel rather than being the mediterranean-climate-style gardens one might have expected. This, of course, is linked to the historical context and the use of copious water.
The size and scale of the majority of gardens visited, often with majestic backdrops that provided an extended or borrowed landscape.
The commitment to the strong educative approach at Soil for Life and in the public gardens, especially at Babylonstoren, Harold Porter and the Green Point Biodiversity Showcase Garden, demonstrated through the excellent information provided by signs and the expertise of the guides.
Talking with owners and guides gave a fascinating insight into the development of individual gardens. The welcome and hospitality extended by the people we met was exceptional.
The easy camaraderie of our Mediterranean Garden Society group.
With very many thanks to Angela Durnford for leading and organising this very special experience with its impressive choice of visits.
MGS Tour of Gardens of the Cape: The Programme
Italian Branch Head Angela Durnford who organised the eight-day tour writes:
My family has lived in the Cape since 1984 and after one year as a resident there I have been visiting ever since, latterly overwintering each year. Since becoming Branch Head for Italy in 2012 I have hoped to put a tour together to share this magnificent place with fellow MGS members – larger-than-life landscapes, vast oceans, fine hospitality, a fascinating history and above all its gorgeous gardens and extraordinary flora. I have been helped by so very many enthusiastic gardeners, horticulturalists and botanists here in the Cape.

Cape View
Our Bases
4 nights in Stellenbosch at Kleine Zalze Lodge – nestled among vineyards in the heartland of the Winelands with spectacular views over the mountains of Stellenbosch we will shall have fantastically comfortable, large rooms to rest and recharge from our busy schedule.
5 nights in Cape Town at The Vineyard Hotel – a beautiful and historic hotel set in marvellous gardens with views up to Table Mountain.
The Programme
8 days
2 hotels
25 beautiful gardens – botanical, historic, modern, indigenous, organic and experimental, each tour led by the garden owner or by expert botanists and horticulturalists.
2 talks by leading lights in the Cape botanical community on water-wisdom in the Cape and climate change in the Cape.
1 wildflower walk on Table Mountain for the intrepid or along a beautiful riverbed for those less adventurous
8 light lunches in the gardens or other spectacular settings – even when we sit down to eat the Cape will be all around us
7 dinners in great restaurants – personal favourites
1 free afternoon
2 free evenings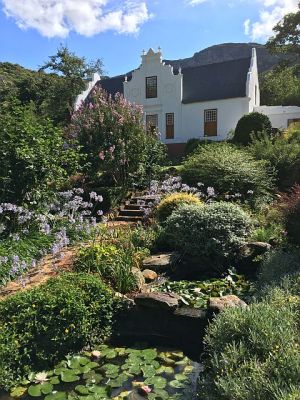 Cape garden